Custom, Couture Silk Flower Girl Dresses by Pegeen
Flower Girl Dresses by Pegeen Couture, Custom Made in the USA & Shipping World Wide
Designer Flower Girl Dresses at affordable prices in over 200 Silk Colors
Upscale, couture, luxury custom flower girl dresses and ring bearer suits designed and manufactured by Pegeen
Walking Down the Aisle with Satisfied Brides and Moms Since 1982
featuring Versatility, Special Fits, Sizing Guarantee, Plus Size Flower Girl Dresses and Old-Fashioned Customer Service
Made in our own Design Studio and Factory in the USA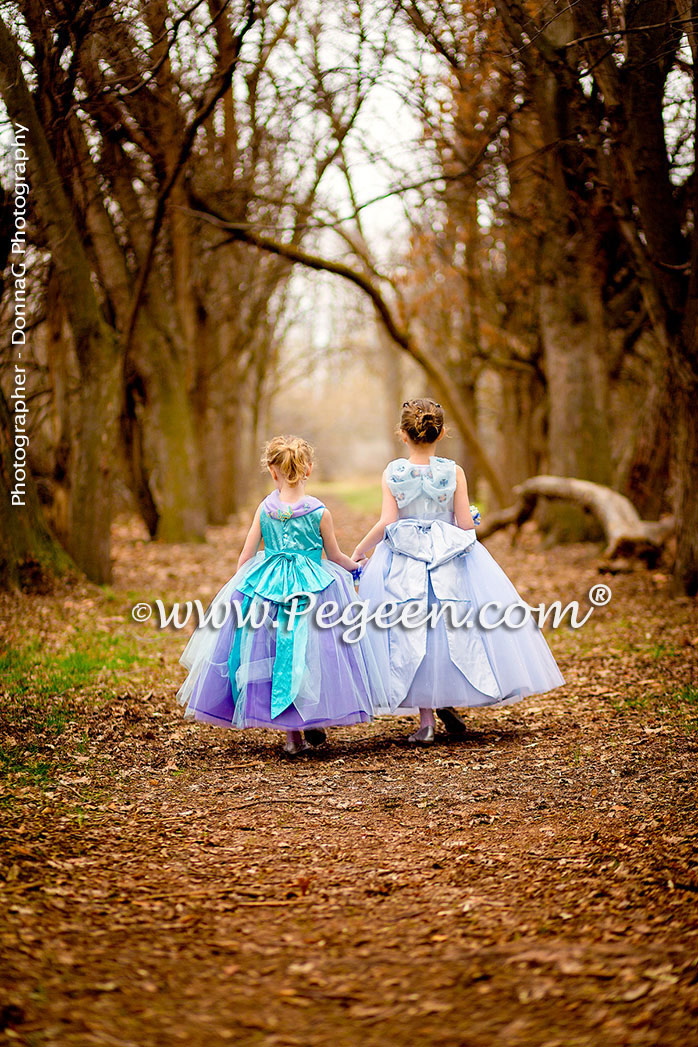 Shown Above: Cinderella Flower Girl Dresses from The Fairy Tale Collection
What makes Pegeen so special:
All of our flower girl dresses come in your choice of 200+ Colors, with or without sleeves, in any color combination of skirt, sash and bodice, and with its own crinoline. We have options at any price range and all outfits are easily customizable.

Our collection of fine childrenswear start at $135 (slightly less for infants). Imagine, our competition starts their pricing at $229 and that doesn't include sleeve choices, flowers, larger sizing or petticoat (they add those charges separately) but for Pegeen, all of these things are standard and INCLUDED IN YOUR PRICE! You will note that our dresses are made from fine silks and other imported laces and fabrics BUT, as moms, we think about our bills, so Factory Direct pricing is a way for us to help our customers save. Therefore, we sell only on the internet and not through retail stores. Our Testimonials and our Repeat Customers speak for themselves.
If you plan on ordering from us, you can informally register with us so that we can better predict colors that are popular. Registering helps when you have other mothers in your wedding party – this way we know the exact style & color you want so all they have to do is call and we have your information. We will notify you via email when their orders come in and let you become aware of scheduling dates. One less worry for you! * Prices can change at any time.
Girls styles are available from Infant to Girl's Plus Sizes and Boy's to Size 16
Couture Flower Girl Dresses
Couture Quality Flower Girl Dresses and Plus Size flower girl dresses by Pegeen are sure to give that extra sparkle little girls dream of. Your wedding will be a wonderful experience for all ages. We can create the perfect Flower Girl Dress for your child. Call, email or even online chat with the designers here at Pegeen. We can make your dreams come true. We are a couture quality childrenswear manufacturer and Designer since 1982, and everything you see on our website is made by us.
About Pegeen
Pegeen is a manufacturer and designer of Fine Childrenswear, and our heart and soul goes into the process of each and every dress. We are not mass produced and do not sell to stores so that our dresses have an exclusive appeal to our customers. Each of our clients grow with us and many have become long time customers. If you are looking for a cheap flower girl dress, don't come to us because we don't use fabrics that are not up to our standards. BUT if what you want is an impeccably made and gorgeous dress or suit for your child, from the finest imported materials, then we are your designer. Proudly made in the USA.
---
Why We Don't Discount Anymore

We have gotten rid of selective pricing in favor of transparent pricing. We questioned: Why have pricing that is false advertising? Instead, our pricing is clear, fair, public, consistent, and predictable.
What we believe in. We want to hear "wow, your prices are fantastic". We offer a high quality, proudly Made in America product where we believe in the quality of the product and the best customer service experience.
What we give to our customers. We want people to see our dresses and say that they have never seen anything like it in the market place, and particularily at this price. We treat our customers all the same, whether it is one dress OR twenty two children in the wedding party. We guarantee you will return to our committment of getting the best product out there that we can, delivering a truly fantastic customer service experience. Just ask our incredibly loyal, repeat customers.
You can read more about this here: CLICK