Buy custom Flower Girl Dresses online starting from only $150.00

Pegeen's online dress shop offers the very best Custom Flower Girl Dresses and Boy's Suits!
Walking Down the Aisle with Satisfied Brides and Moms Since 1982
Pegeen makes Couture Quality Flower Girl Dresses. We Design and Manufacture our Outfits and Sell Direct to you!
We Offer A Rainbow of 200 Mix and Match Silk Colors
Our Versatility, Special Fits, Sizing Guarantee, Plus Size Flower Girl Dresses and Customer Service are Second To None
Made in our own Design Studio and Factory in the USA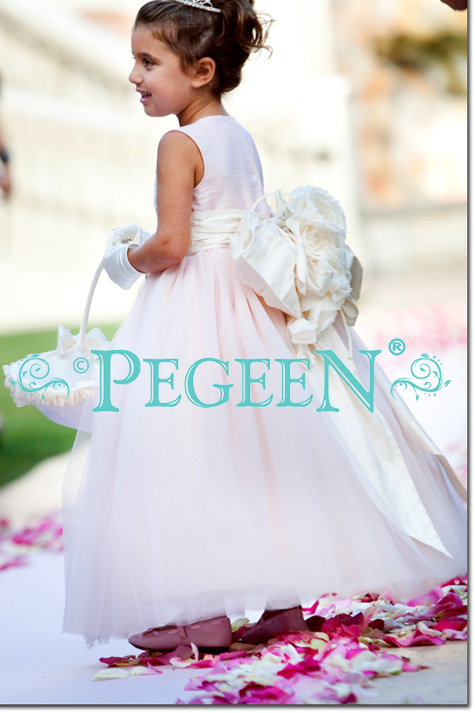 You Could Be Named our Flower Girl Dress of the Year DETAILS

Flower girl dresses and Plus Size flower girl dresses are just about all we manufacture at Pegeen - Couture quality and custom designed. Buy direct from the manufacturer and we'll customize your suits or dresses especially for your event, to match your bridesmaids or theme. We are couture quality childrenswear manufacturer and Designer since 1982, so everything you see on our website is made by us. We will design a personalized custom creation so you can make your own statement of who you are. This includes over 85 styles in 1000s of color combinations including junior bridesmaids, plus size dresses and ring bearer suits. You can customize by changing the base colors to have plenty of color, add length or long sleeves. Plus Sizes are also one of our specialties and we are so good at sizing, we guarantee it. Our Designer will work with you so your order is created in your choice of 200 in-stock colors of silk, satin, taffeta, laces, tulle or organza and more. All come with or without sleeves, and all come with a crinoline. Girls styles are available from Infant to Girl's Plus Sizes and Boy's to Size 16. Ordering from us means you are ordering directly from the designer and manufacturer. Made in the USA
---
Couture Flower Girl Dresses
Couture Quality Flower Girl Dresses by Pegeen are sure to give that extra sparkle little girls dream of. Your wedding will be a wonderful experience for all ages. We can create the perfect Flower Girl Dress for your child. Call, email or even online chat with the designers here at Pegeen. We can make your dreams come true.
About Pegeen
Pegeen is a manufacturer and designer of Fine Childrenswear, and our heart and soul goes into the process of each and every dress.  We are not mass produced and do not sell to stores so that our dresses have an exclusive appeal to our customers. Each of our clients grow with us and many have become long time customers. If you are looking for a cheap flower girl dress, don't come to us because we don't use fabrics that are not up to our standards. BUT if what you want is an impeccably made and gorgeous dress or suit for your child, from the finest imported materials, then we are your designer. Proudly made in the USA.
---