Need a Flower Girl Dress in a Rush?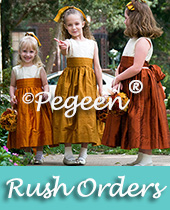 What if I need a Rush Order in a few days or a few weeks? Rush flower girl dresses are available. The lucky thing, we own our own factory and are able - when timing permits - to slip in another order without interfering with other orders on the weekends. SHIPPING IS ADDITIONAL. Rush orders may not be cancelled under any circumstances as our company has to jump through hoops to get this done for you in time. Further information may be found in your confirmation letter and on our Guarantee page.
Rush charges - ARRIVE in 2 days to 2 weeks $50 or ARRIVE in 3-4 weeks $25 (fabric in stock permitting)
Look, things happen before a special event - you procrastinated, someone did not get you what they promised, or you couldn't find something before, or were asked at the last minute. We can help you get something in a hurry and have been know to jump through hoops and sometimes are called only a few days in advance of an event. We will let you know immediately if we can accommodate your special problem - no matter what the reason you don't have your dress.