Flower Girl Dresses | Pegeen
Upscale, couture, luxury custom flower girl dresses and ring bearer suits designed and manufactured by Pegeen








WAYS TO SHOP WITH US
View our Flower girl dresses & ringbearers by
Style, Real Weddings or What Others Have Done

CREATE YOUR OWN LOOK
Use our Virtual Pegeen Dress Dreamer
Order Free Swatches and choose the correct Sizes

WAYS TO CONNECT WITH US
Get the answers you need
Chat with a Designer and not sales staff





Walking Down the Aisle with Satisfied Brides and Moms Since 1982

featuring Versatility, Special Fits, Sizing Guarantee, Plus Size Flower Girl Dresses and Old-Fashioned Customer Service
Flower girl dresses directly from the designer, Pegeen.com. Affordable, couture quality in over 200 Custom Silk Colors from Infants through Plus Sizes
Flower Girl Dresses by Pegeen Couture, Custom Made in our own Design Studio and Factory in the USA & Shipping World Wide
Still Made in the USA in Orlando, FL and shipping all over the World
Each flower girl dress is made from 100% imported silk, lace and fabrics.

Rating: 10 out of 10
"Absolutely Beautiful" by Gina Solomon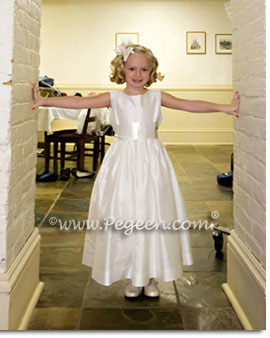 The dress was absolutely beautiful--what a memory we have! I took her to get her hair and make-up done. Make-up ran late, so she had to change at the salon. She came out in her dress with my Mom as I was paying. I could not believe it when she walked into the room. She wore her hair up, and we bought 5 bobby pins with white flowers attached at the ends. Placed throughout her updo. Without sounding vain, everybody said "Kristen Solomon looked the most gorgeous"--head to toe, inside and out, she shined. Thank you for your effort... I know you were with us in spirit--we will be back as customers again.
Rating: 10 out of 10
"Just Perfect" by Saba Ahmed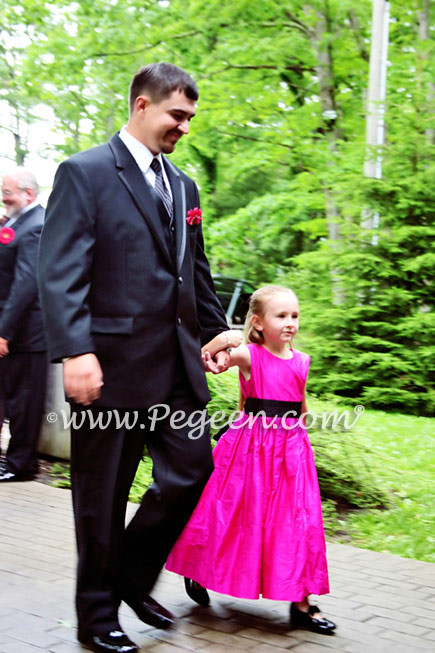 I was brought to tears with how gorgeous this dress is! I put it on my daughter right away to make sure it fits and it was just perfect!!! My husband and I just sat there and stared at her and I told him I have to run up and email you and thank you for making the most beautiful dress in the world for my princess! I don't ever say things I dont mean, so please believe me when I say...I have never seen anything like it in my life! The color combination, the materials, the stitching...every inch of it is just perfect.
Rating: 10 out of 10
"Outstanding!" by Connie Eucker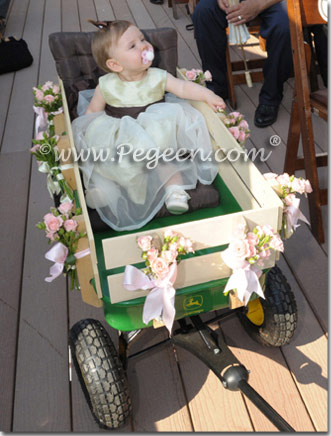 I want to tell you how much we enjoyed the beautiful dress your made for our granddaughter Lexi. The color matched beautifully with the Jessica McClintock dresses worn by the bridesmaids. The quality of the material and workmanship was outstanding! We are very impressed with your company and have referred your work to friends who will are planning weddings. All the best for the coming year.

.