Each year for almost the past 10 years, we decided to highlight our favorite weddings of the year with some very special flower girl dresses. This year, we had some "firsts". For the first time, we had two winners including a special Infant Flower Girl Dress of the Year and weddings from three different countries, Australia, Canada and the US with a little bit of the UK mixed in!
Made in our own Design Studio and Factory in the USA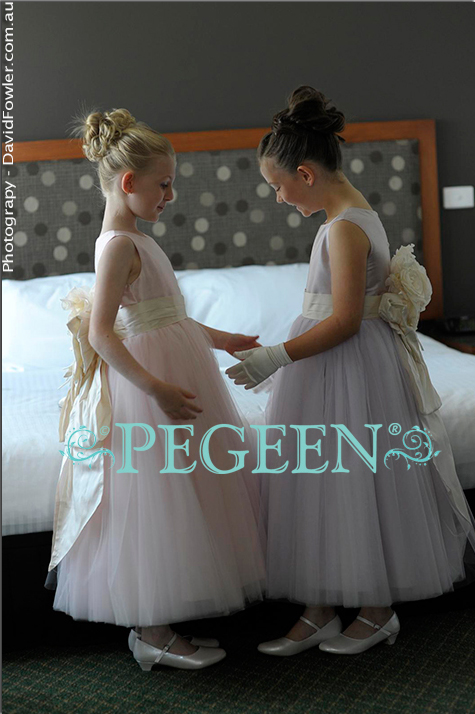 You Could Be Named our Flower Girl Dress of the Year DETAILS
---
This year we were delayed with the announcement because we actually had to FIND our winner through cyber space because she had closed down her site and contact information was lost! BUT we found her and are pleased to announce that our winner, from Australia, had the most romantic wedding we ever witnessed. The bride choose Pegeen Couture Style 402 with our Pegeen Signature Bustle in Peony Pink and Lavender. Their wedding had a special tribute to their chance meeting in the UK when they met in London and it was such a romantic story that every woman would dream happen to her (insert Daniel Craig for me here, but alas he's married and so am I). DETAILS
We had SUCH a hard time deciding about a second wedding that took place in Canada. The wedding was so gorgeous that we decided to have our first CO-WINNER! Our first, 2013 SPECIAL Wedding and Flower Girl Dress of the Year is from the Pegeen Regal Collection, Style 619 and it was a beautiful silk flower girl dress with aloncon lace, pearls and silk lame with hand trimmed roses. These flower girl dresses are sure to please even the most discerning bride, and what about those flowers!? OMG - they are exquisite. The bride's wedding (in Canada) actually included the three flower girl dresses and a matching but sweet dress (Pegeen Infant Classics Style 802) for her niece. We loved her cake, the flowers, and so much more that we couldn't just choose one wedding! DETAILS
And then, the third wedding we chose was a lovely wedding with deep and bright colors and is our 2013 Runner Up Wedding & Flower Girl Dress of the Year. We were SO excited when we made these dresses flower girl dresses that in my heart, I knew that these dresses were going to be among our winners. I think you will agree. Pegeen Classic Style 356 with two colors of tulle. The bride, this time located in New York choose Passion (Purple) and Flamingo Pink. This went with her Bill Levkoff bridesmaids dresses in Iridescent Taffeta and we think they went perfectly! DETAILS
We trust that you will enjoy all of our winners and over the next 24 hours, these pages will be fully completed with lots and lots of images! Should you have any questions or needs, feel free to call or email us as we are always happy to help!

For more wedding photos, click the individual images above.
Save
Save