PRESS RELEASE - FOR IMMEDIATE RELEASE
Sweet flower girl dresses in Raspberry Pink and Grass Green
Orlando, March 2, 2011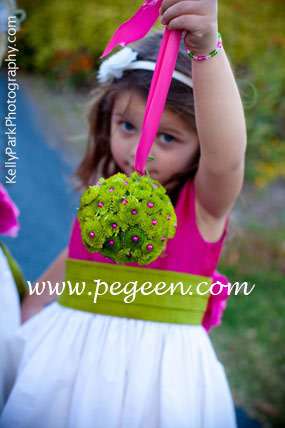 Our Wedding of the month for February comes just before we crown our Wedding of the Year
The beautiful colors of raspberry pink and grass green were carried through out the entire ceremony from the wild shoes to the gambling tables at the reception.
What we really loved was the choice of colors! It went perfectly with her theme and those beautiful flower balls commonly called pomander or kissing balls. Whatever the name - we loved the color.
More about our February Wedding of the Month.....
Sarah's favorite colors were hot pink (raspberry) and grass green with accents of black and lots of bling. For the wedding reception, Sarah had decided on a theme fitting the evening with lots of gambling for the guests and even a really beautiful lounge.
The photography was by Kelly Park Photography and the venue for the reception was St. Louis Science Center Planetarium and ceremony, The Jewel Box - all in St. Louis.
Raspberry and grass green flower girl dresses Feel free to visit our website Wedding of the Month Page to see what other brides are up to! While we are sure that their ideas will inspire you to write more about if you have any questions feel free to call us at 407-928-2377 Silk Flower Girl Dresses: Cerise pink and lime green flower girl dress and Jr. Bridesmaid Style 383
###
About Pegeen:
Pegeen.com offers several distinct lines which fall under two categories: Princess Everyday and Princess Special Days which include popular priced Pegeen "Classic", Pegeen Couture, Pegeen Tween for Jr. Bridesmaids Ring Bearers and the "Nutcracker Collection. For nearly 40 years, Hyland has created, customized and sold over 1,700,000 infants' and girls' dresses and boys' outfits for weddings, cotillions, christenings, bat and bar mitzvahs, ballet costumes and many other special and formal occasions. Hyland is committed to providing couture quality at very reasonable prices. To View Styles visit https://www.pegeen.com/flower-girl-dress-styles.php
Recently, Hyland is proud to announce that the business has become a two-generational one as her son, who graduated from Florida Southern in Business, daughter-in-law, and another son, a recent graduate from UPenn Robotics/Mechanical Engineering, have also joined the firm as Pegeen ventures into developing a full-fledged Virtual Reality store coming in 2021!
Pegeen encourages their customers to send in their photographs of their events once it is over and highlights their favorites on their website. For more information: details. (https://www.pegeen.com/be-in-our-commercials.php)
Pegeen.com®, headquartered in Orlando, FL, has been involved in creating beautiful yet affordable clothing for children for weddings and special occasions since 1982. We remain true to our founding mission providing factory direct, couture quality flower girl dresses at affordable prices. Every flower girl dress or ring bearer suit is made in our factory and with over 200 colors to choose from, we are proud to help you walk down the aisle. For more Press information on PEGEEN.COM, call 407-928-2377 or visit Pegeen.com Designer Childrenswear or our interactive design tool Pegeen® Dress Dreamer™