PRESS RELEASE - FOR IMMEDIATE RELEASE
NEWEST STYLES FOR THE NUTCRACKER COLLECTION IS ANNOUNCED
Orlando, FL – October 18, 2012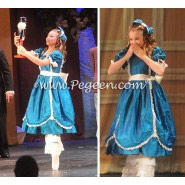 Marg Hyland, founder and head designer of Pegeen® which sells exclusively online as Pegeen.com, has just introduced some very unique designs as she has been doing for almost three (3) decades. This collection includes flower girl dresses and ring bearers' suits as well as special occasion dresses such as thier Nutcracker Dresses. This season for the Nutcracker Ballet, Pegeen has designed 6 new fabulous styles including a silk charmeuse "Night Gown" in various colors for Clara. Visit the full line at Pegeen.com - Nutcracker Dresses or visit this link: http://www.pegeen.com/Pages/THUMBNAILS/nutcracker-collection.php
Ms. Hyland gets her experience and design sense from studying dance herself for over 20 years, with various famous Dance Instructors including those from The Royal Ballet, Utah Dance Repertory Theater, Martha Graham and started in her first performances with her aunt, the director of the Marcia Hyland School of Dance, one of the largest schools in the East Coast, a former choreographer with the Miss America Pageant as well. Having received her Masters of Dance and Theater Arts in 1981, Ms. Hyland shares her love of theater in each dress she designs.
Like all their styles, the Nutcracker dresses are available in over 200 colors of silk in any combination. Additional fabrics or trims include Swiss Cotton Batiste and Silk Charmeuse and imported laces from England and France.
Pegeen's Latest Styles for the Nutcracker are Available from sizing from the very small child (for holiday dressing) through Plus Sizes. Delivery begins in Early October and completes in time for dress rehearsals starting at Thanksgiving Week. Give yourself plenty of time however because dresses are made to order.
###
About Pegeen:
Pegeen.com offers several distinct lines which fall under two categories: Princess Everyday and Princess Special Days which include popular priced Pegeen "Classic", Pegeen Couture, Pegeen Tween for Jr. Bridesmaids Ring Bearers and the "Nutcracker Collection. For nearly 40 years, Hyland has created, customized and sold over 1,700,000 infants' and girls' dresses and boys' outfits for weddings, cotillions, christenings, bat and bar mitzvahs, ballet costumes and many other special and formal occasions. Hyland is committed to providing couture quality at very reasonable prices. To View Styles visit https://www.pegeen.com/flower-girl-dress-styles.php
Recently, Hyland is proud to announce that the business has become a two-generational one as her son, who graduated from Florida Southern in Business, daughter-in-law, and another son, a recent graduate from UPenn Robotics/Mechanical Engineering, have also joined the firm as Pegeen ventures into developing a full-fledged Virtual Reality store coming in 2021!
Pegeen encourages their customers to send in their photographs of their events once it is over and highlights their favorites on their website. For more information: details. (https://www.pegeen.com/be-in-our-commercials.php)
Pegeen.com®, headquartered in Orlando, FL, has been involved in creating beautiful yet affordable clothing for children for weddings and special occasions since 1982. We remain true to our founding mission providing factory direct, couture quality flower girl dresses at affordable prices. Every flower girl dress or ring bearer suit is made in our factory and with over 200 colors to choose from, we are proud to help you walk down the aisle. For more Press information on PEGEEN.COM, call 407-928-2377 or visit Pegeen.com Designer Childrenswear or our interactive design tool Pegeen® Dress Dreamer™