2020 Wedding of the Year - A Covid Wedding
Posted on

March 18, 2021 7:15:31 PM EDT

in Past Weddings Of The Year by

Marg Hyland
We chose our flower dress of the year featuring what most brides went through, reducing their guest size and prepared to make last second changes based on the pandemic flying though families.
This wedding was no different and highlighted the changes that were made, multiple times, for many couples who wanted to carry on with their plans for a 2020 wedding.
What will happen going forward into 2021? Well, likely by late spring or perhaps mid summer, weddings will be back on, and some areas with 100% capacity. This particular wedding was dear to my heart - a family wedding where a very special niece married her one true love - a story really out of those Disney movies and we couldn't be happier.
Although Amy and Bob had to change their plans many times, their good nature kept humor through out and the wedding, albeit quite chilly was held outside.
We hope you read their special love story and of course enjoy the photos of Amy's choice in flower girl dresses, where she could pick exactly what she wanted, just like every bride.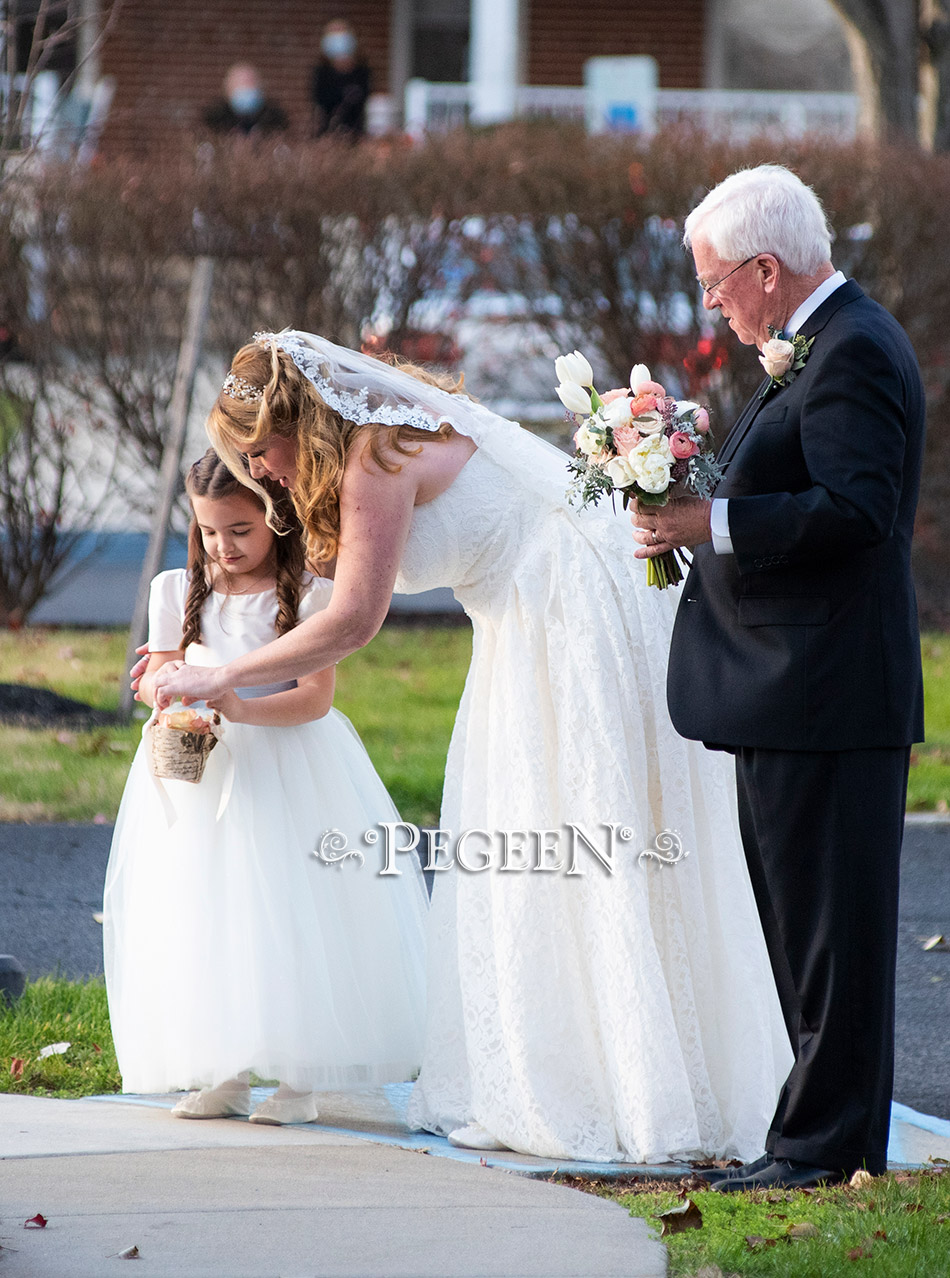 About this flower girl dress

Customize your flower girl dress to be exactly what you envision by talking to one of our staff or head over to our Pegeen Dress Dreamer.
What we have done for re-arranged weddings for 2020-2021
Our shipping remains on time, but we give our customers the freedom to change their dates as weddings move forward due to COVID. We allow you to change the date without exception. We therefore we will make new tops or lengths because children do grow so we will give you a new delivery window and a date for remeasure based on your information. Please call us at the office should you not have talked to us or have any questions. Additionally, there is a second option you can choose to change your style up until 15 days before your ship date. HOWEVER please discuss this with us at the time of placing your order so we can keep this in mind. EVEN if you think you need to change event dates…. Just let us know. Please call us at the office should you not have talked to us or have any questions.
The perfect fit is crucial during covid so let us take the worry from you.

Because dates may still change, we have a perfect system so that we are able to ship your dresses at the right time. Pegeen prides itself on its Guaranteed Fit.
Lets get down to choosing the right style

We recently were looking at some of our weddings of the past when I came across a lovely wedding with children from about aged 2 to 13 years of age. For each age group, we choose what was appropriate, shorter skirts fot the little ones, longer, more mature looks for the older junior maids.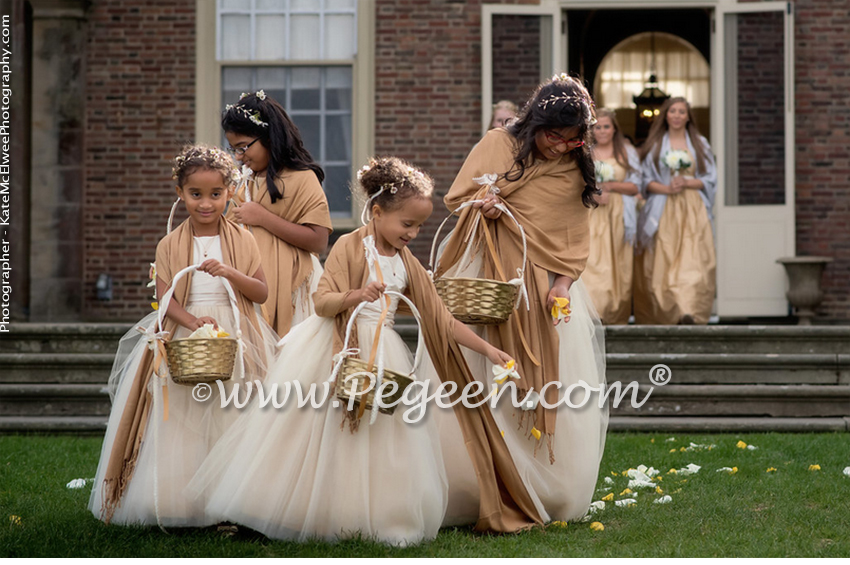 PEGEEN Flower Girl Dress Company, we encourage you to call us or chat with us for help designing your flower girl dress.