A mom was worried, is Black appropriate for my Jr. Bridesmaids Dresses? We showed her many examples and sent lots of free swatches to her in the mail. We finally decided on a lovely color called Arial Blue for the sash which has black silk going in the opposite direction (cross weave). Pegeen Dress Dreamer virtual closet Style 388 was used for two Jr. Bridesmaids where we added extra length to their dresses. 100% Pure Silk. Try our Dress Dreamer and create your own style!
This silk flower girl dress in black silk for two Jr Bridesmaids who attended their cousin's wedding.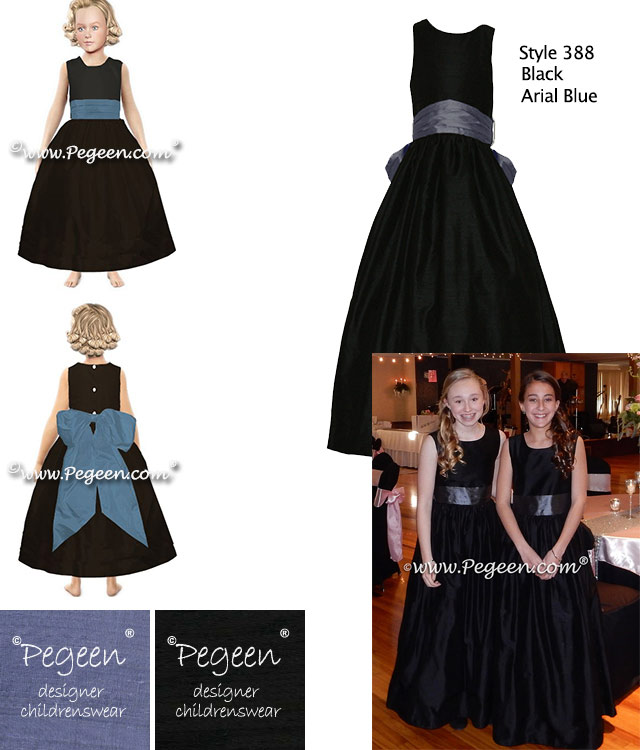 PEGEEN CLASSIC STYLE 398 Custom Silk Junior Bridesmaids Dress with exaggerated scoop. Comes with ruffled sash but you can add a pleated sash under options. Choose up to 3 colors, for the bodice (top), skirt and sash which is available in 200+ Mix and Match Color choices and mother of pearl button closure. Dress has a full gathered skirt with a ruffled sash in front of the dress and a large sash that you tie in a bow. All of our skirt lengths are ballet length, meaning just three or four inches above the ankle which can be customized as well. Includes your choice of short sleeves or sleeveless tank, other options available such as sash changes or flowers at a slightly higher price. See options below. Available from 4R through Plus Sizes, attached crinoline/petticoat and lined with silk.