Checklist to Follow When Picking a Flower Girl Dress
Posted on

January 9, 2020 2:32:02 AM EST

in Flower Girl Dress Blog by

pegeen
They may be the littlest members in your entourage but out of all the members in it, they are the ones who definitely get most of the attention. After all, everyone's eyes are going to be on the little girl walking down the aisle. Naturally, you want to make certain she gets the best dress style that coordinates with your dress or theme.
In order to make sure the dress you pick makes the flower girl feel confident and extraordinary, here is a checklist you can follow so that you ultimately pick the flower girl dress that suits your wedding theme just right.
Take the season into account
Pick a flower girl dress that blends with the season well. For a warm-weathered wedding, go in for short sleeves or sleeveless while for a wedding being hosted in winter, you can think of tights and a cape to keep the flower girl snug and cozy. Pegeen allows you to even choose long sleeves on most every flower girl dress we make. The fabric plays a vital role
The flower girl dress needs to go with the wedding aesthetics but see that you steer clear from too heavy or itchy fabric. Tulle flower girl dresses are the rage today. This design tends to give an alluring ballerina vibe to the dress. You can also go in for lace, chiffon material. Our personal preference is silk because it flows so beautifully and looks so rich. Besides not showing stains or spots like polyester fabrics do, you can simply spot clean it with a damp cloth if something gets on the dress and will dry without a mark. What could be more rich than silk anyway?
Focus on the style and color
While material plays a vital role, it is best to choose a color (Pegeen allows you to custom choose up to three colors of silk) that either matches your bridesmaids and theme or coordinate well. While the eventual style, fit, color and fabric is the bride's call, generally going in for dress that works well with the wedding aesthetic is a wise choice. Some brides go in for a dress in a similar hue to the bridesmaids' dresses.
Plan for her to grow into it
When picking a flower girl dress, you have to estimate for a bit of growth. Most moms will place their order for a flower girl dress about four months in advance. When it comes to sizing for the children, Pegeen has a few special programs and we are so good at sizing, we guarantee it even if the dress is purchased further in advance. Because we have actually sized over 3 million flower girl dresses so far in our almost 40 years of business, we rarely make a sizing mistake – in fact we average less than two sizing exchanges for a year. The trick is where in the country you live. Generally, kids in warmer climates tend to grow a bit more steadily than children in northern climates. The other thing is that during the school year, their bodies concentrate their energy into school – once summer vacation starts their growth accelerates – fun fact from the American Pediatric Society.
Our guarantee means that we first get your children's measurements and if the wedding is more than four months away, we ask for a remeasure and then go about producing your dresses. If not, even though we think our kids "grow like weeds" their four month growth spurt is less for older children and a bit more for younger but amounting to ¼ to ½" – another fun fact from the APS. Long ago when my kids were younger, they were certain I could make it as a carnival guy guessing weight because I never made a a mistake. We are very good after millions of dresses shipped estimating growth. WE are always there to answer your calls.
About special fits
No longer do you have to have your child humiliated at Big Box Stores when they say "Oh we don't fit their kid here". We fit these special kids with dignity. READ HERE
Plus Sizing for Flower Girl Dresses isn't hard from Pegeen. We do the process two different ways: First choose the height based on the total standing height. That actually is her size. Then, using her chest measurement choose the appropriate size for her Bodice Fit (BF). For instance if the girl is larger (or smaller) on the top but falls withing the top chest range of 32.5" she is a size 10 with a 16BF for the Special Bodice Fit.
Lastly, we are well know for our Plus Size Flower Girl Dresses and the process is easy.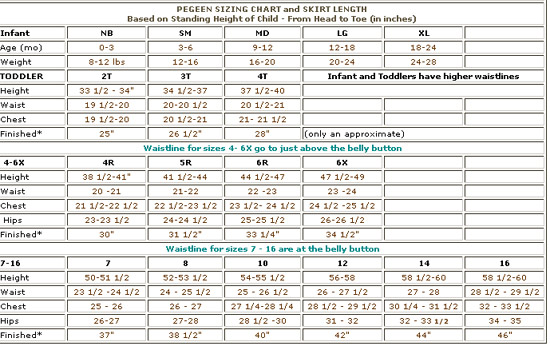 How to Use Our Flower Girl Sizing Chart
Not every child falls into the normal range for us. We expect you should measure the children and then refer to our sizing chart. Further, we plan on adding a sizing calculator in the very near future but here are a few good rules to figure out the proper sizing. We also want you to put the measurements in the check out box so that one of our experts can verify or make the proper sizing choice. The good rule of thumb is to follow our chart's instructions found here (DETAILS) but in a nutshell they are as follows – once you determine her exact top of head to floor (standing) height, you choose that size. SO if she is 48" she is a 6X. (We allow growth patterns, don't worry). Cross referencing with the chest (very important) and the waist, she should fall into that range. If she does not and is more narrow for instance, (let's use a 21" chest) then you choose a size 6X with a size 4 -BF which ensures you will get the proper fit. These rules follow for our company but that is why Pegeen is such a great choice for your purchase. Read about Made To Measure Here to understand the minimum adjustment fee, if any. A few more tips
Choose an appropriate length for the children's ages We have many clients that prefer floor length gowns, particularly our Jewish clientele. However, we feel that younger children should be a bit shorter, a length we call Ballet Length. Ballet has that kind of Audrey Hepburn – 1950"s feel too it. Approximately 3-4 inches off the floor (depending where the child falls on our sizing chart) this makes the dress appear as if it is to the floor. Pegeen allows customizing with your flower girl dresses at a nominal price should you want the dress to the ground.
So there you have it. Now that you are acquainted with the elements that go into choosing the right flower girl dress, you can successfully take your pick and choose the best one that exists. Whether you are looking for tulle, silk or even lace flower girl dresses, get in touch with us at PEGEEN Flower Girl Dress Company. We offer you a wide selection of dresses and prompt delivery so that nothing comes in the way of helping you find the perfect flower girl dress for the most important day of your life.
Our fit is immaculate, our colors (over 200+) are immense and the variety is unmatched.