25 of our very favorite flower girl images to capture
Posted on

March 30, 2019 6:57:44 PM EDT

in Flower Girl Dress Blog by

pegeen
I figure by now we have seen well over 300,000 images by some of the best photographers in the world and some of the up and coming, newest ones as well. We deided to highlight some our favorite flower girl (and ring bearer) shots that you just HAVE to put on your list for your photographer.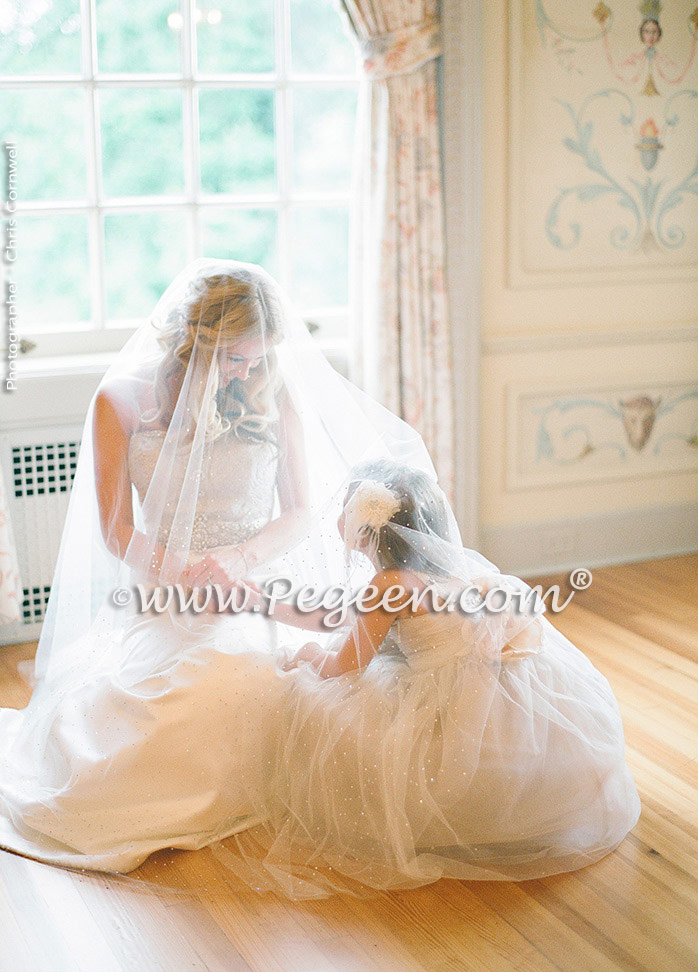 #1 So many of the photos we see are the flower girl underneath the veil and this wedding was no exception to that great shot!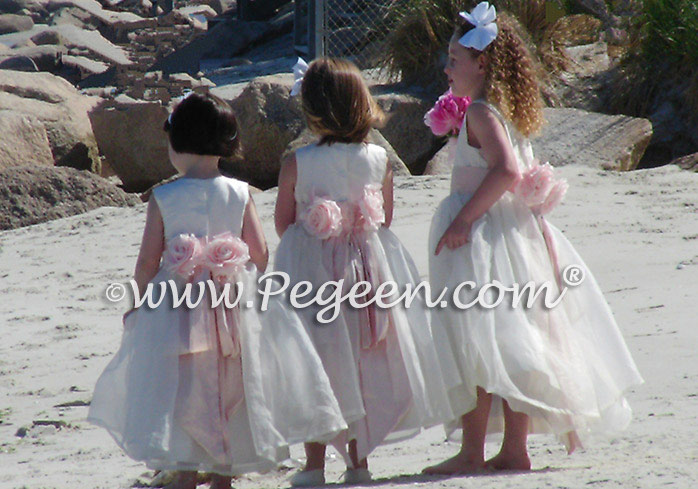 #2 Any beach shot - flower girl dresses caught by a breeze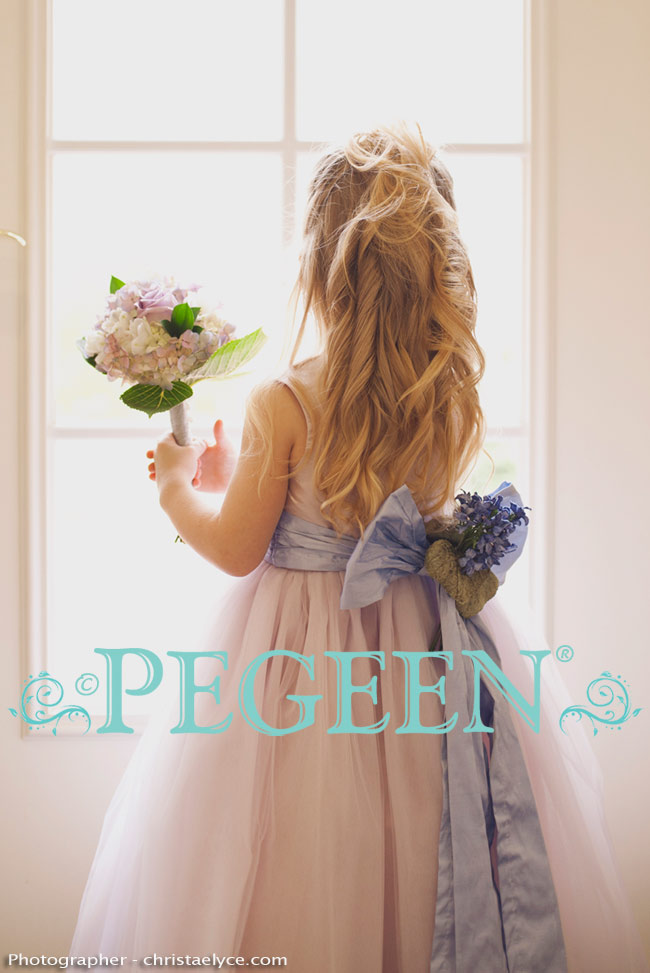 #3 The silhouette photo - Flower Girl Dress of the Year - Couture Style 402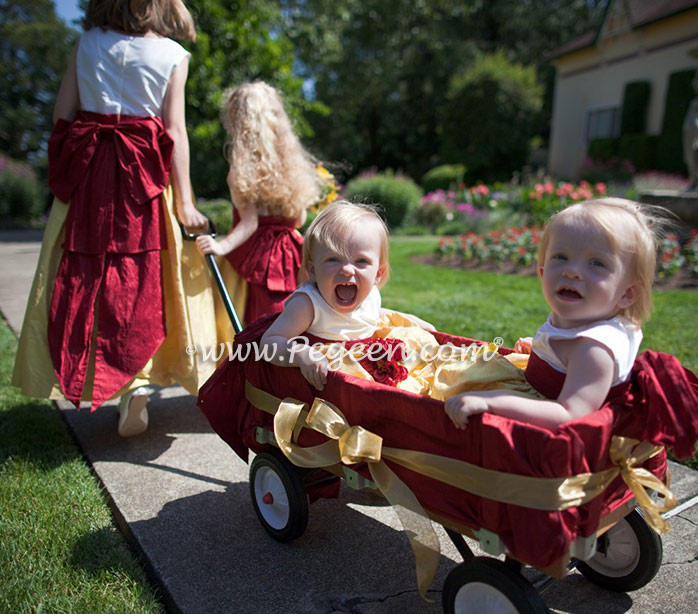 #4 - ANYTIME Baby flower girls are pulled in a wagon - WOW they have so much fun!! Noah Hawthorne Photography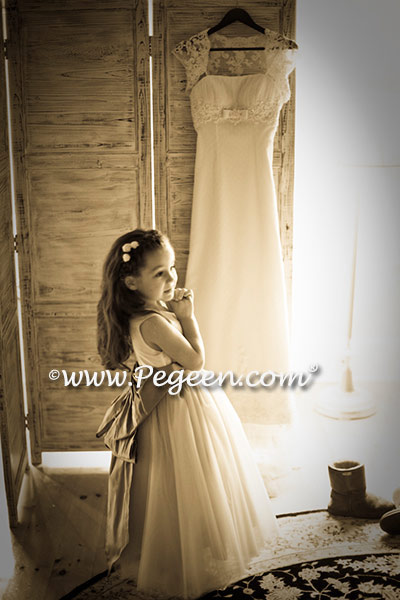 #5 Little girls love to dream about their future Elegant Bliss Photography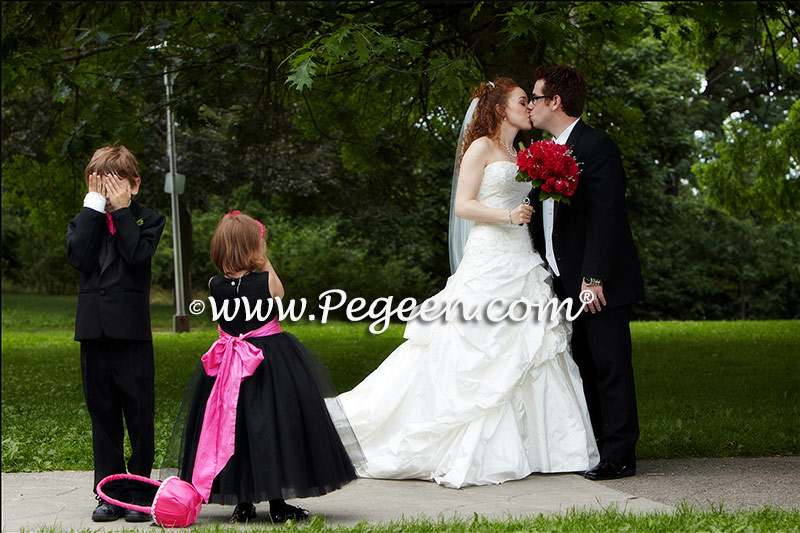 #6 Love them or hate them? Some times posed shots work wonderfully - and kissing? Where Heaven Meets Earth Photography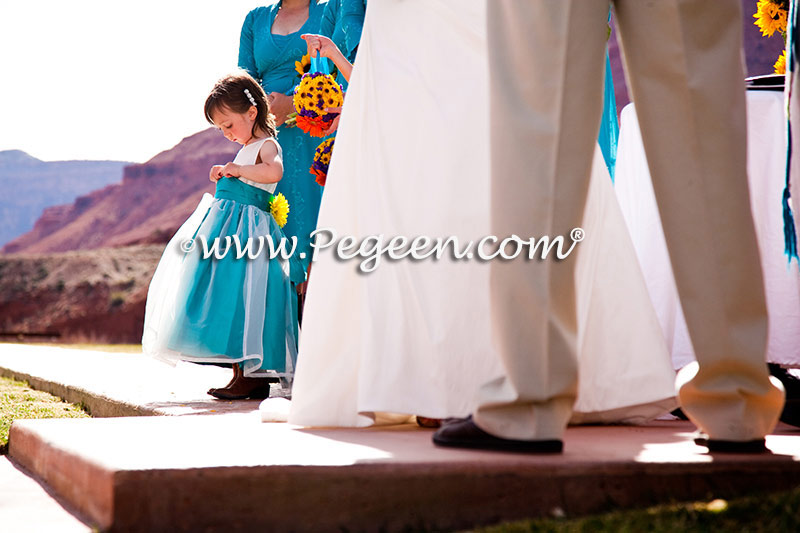 #7 The best shots happen sometimes during the ceremony when a candid look at the flower girl's facination with her dress
#8 This photographer caught this sweetie in a candid shot which we are sure elicited a giggle or two from her parents. Of course, we are not telling you to make a child cry from fear of walking down the aisle but we recommend your photographer keep a focused eye on the children when walking down the aisle as you get some really adorable reactions.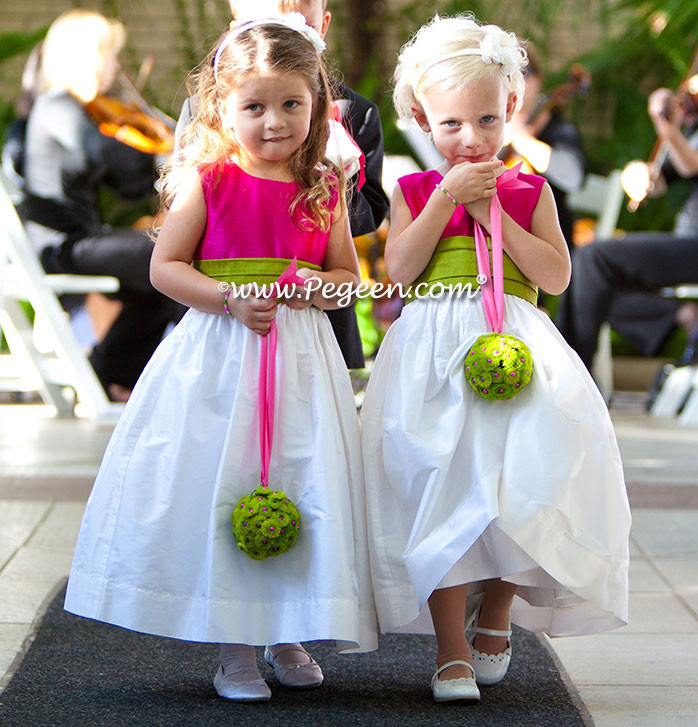 #9 This photographer caught these two flower girls also walking down the aisle. The girl on the right truly captured her shyness. Kelly Park Photography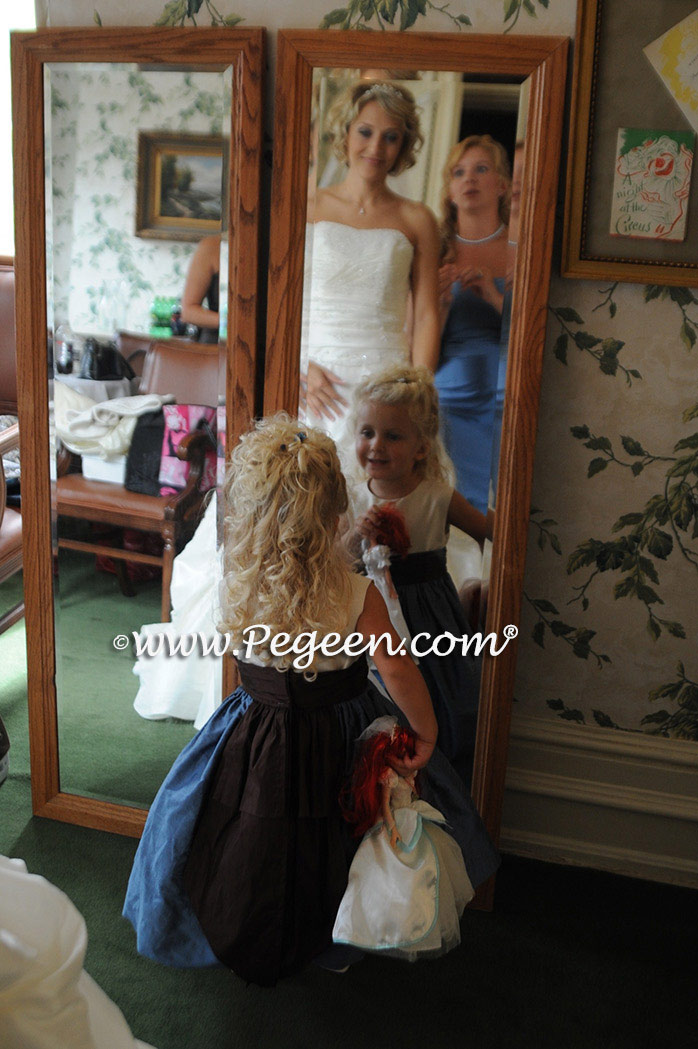 #10 Mirror shots. Whether it's you the bride with one of your flower girls in their dress or the flower girl alone, it is so adorable for that little girl to see how beautiful she looks.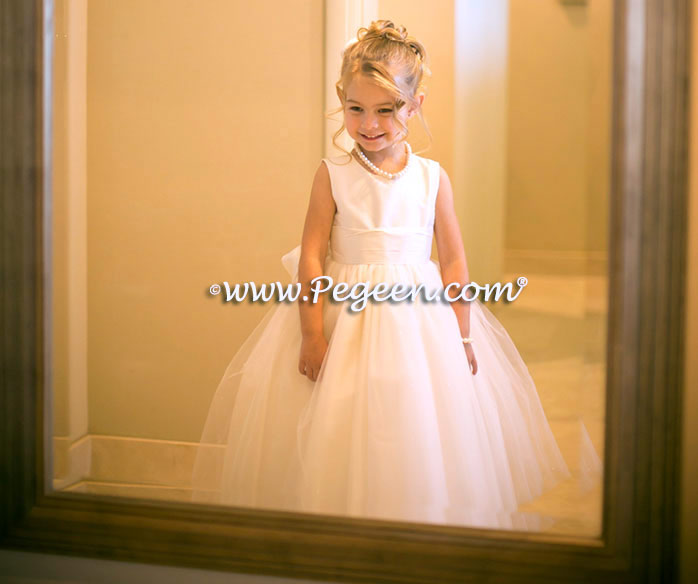 #11 Mirror shots. Ditto on the comment above - this little flower girl is adorable checking out her image in the mirror.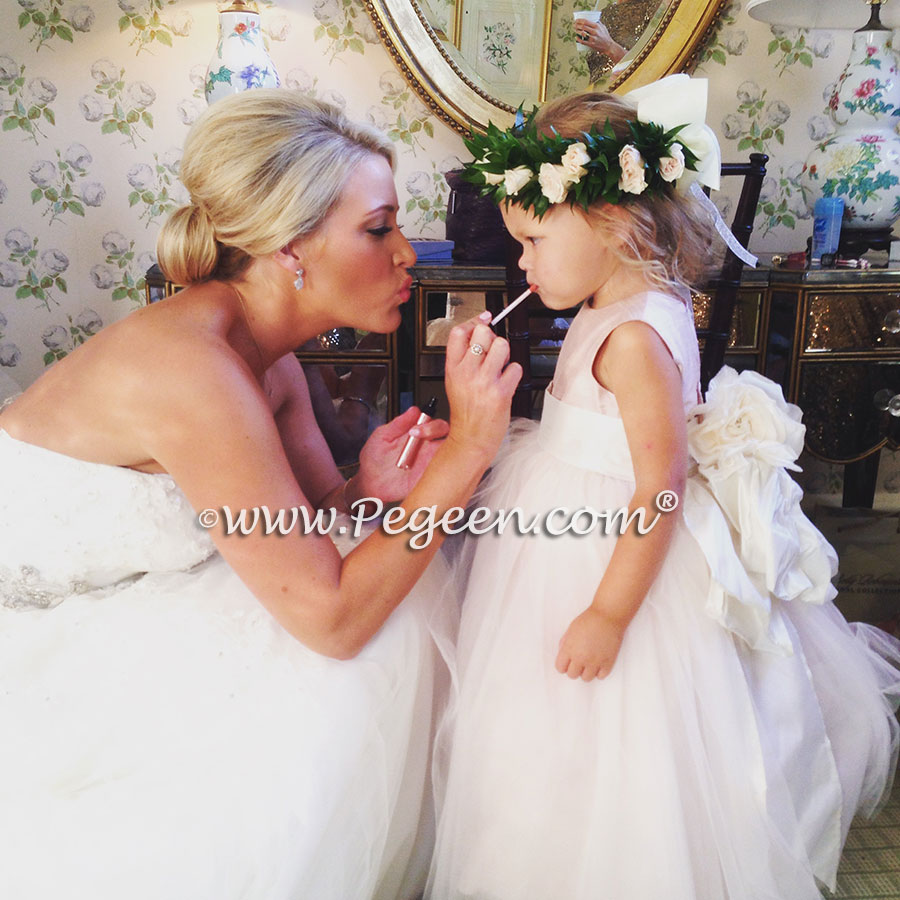 #12 Can't say how much we loved this shot. This adorable flower girl with the bride wearing flower girl dress style 402 with Pegeen Signature bow.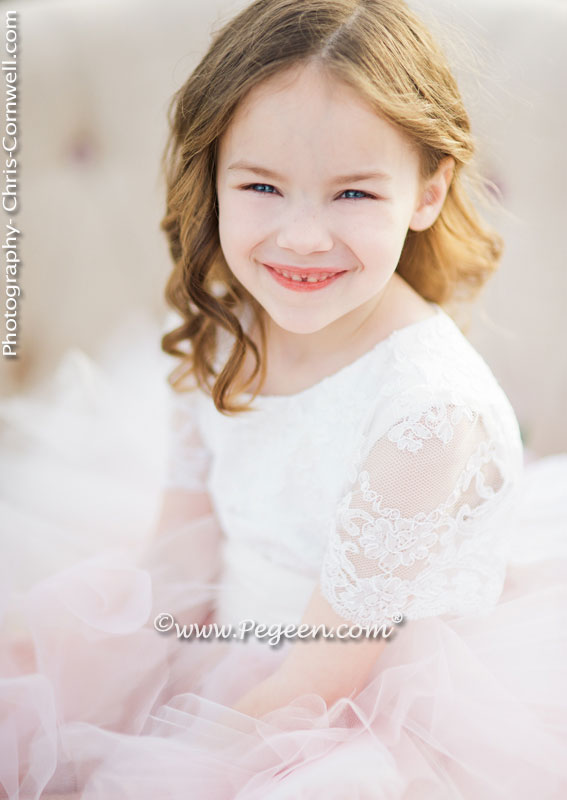 #13 A beautiful photograph of a child's face in her flower girl dress finery makes for a lovely portrait. Chris Cornwell Photography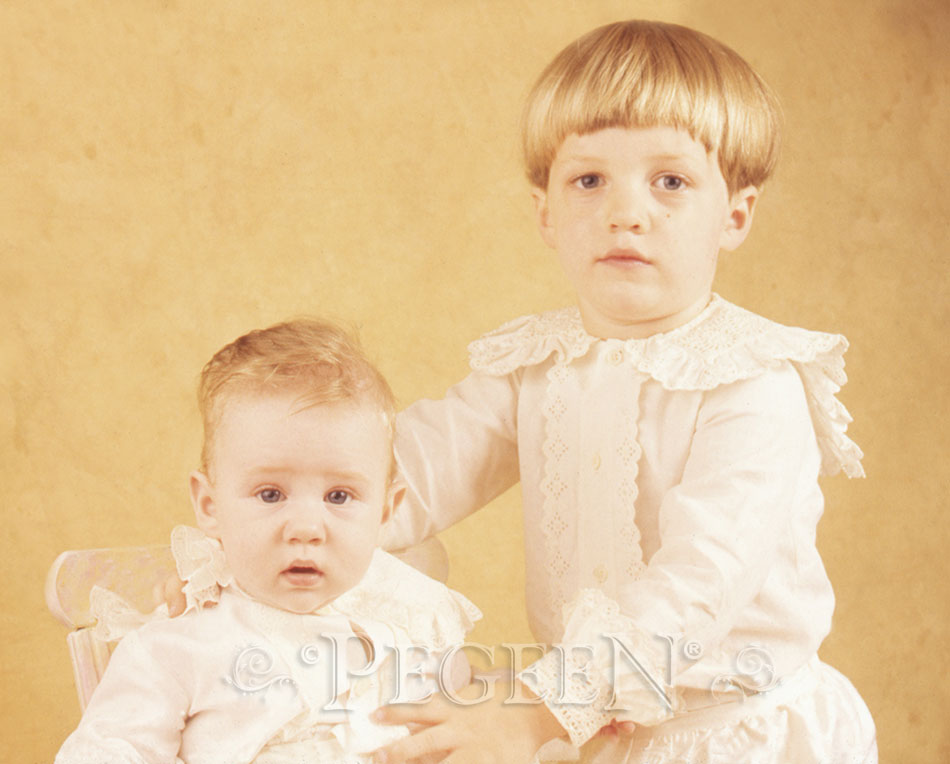 #14 Heirloom Type Portrait of Boy's in Ringbearer Suits ~We have suggested to brides to bring a small chair to wedding reception to capture images for children who are not walking/standing
#15 It's all in the details - some of the best images are closeups of the flower girl dress so you can remember all of the details and this one is no exception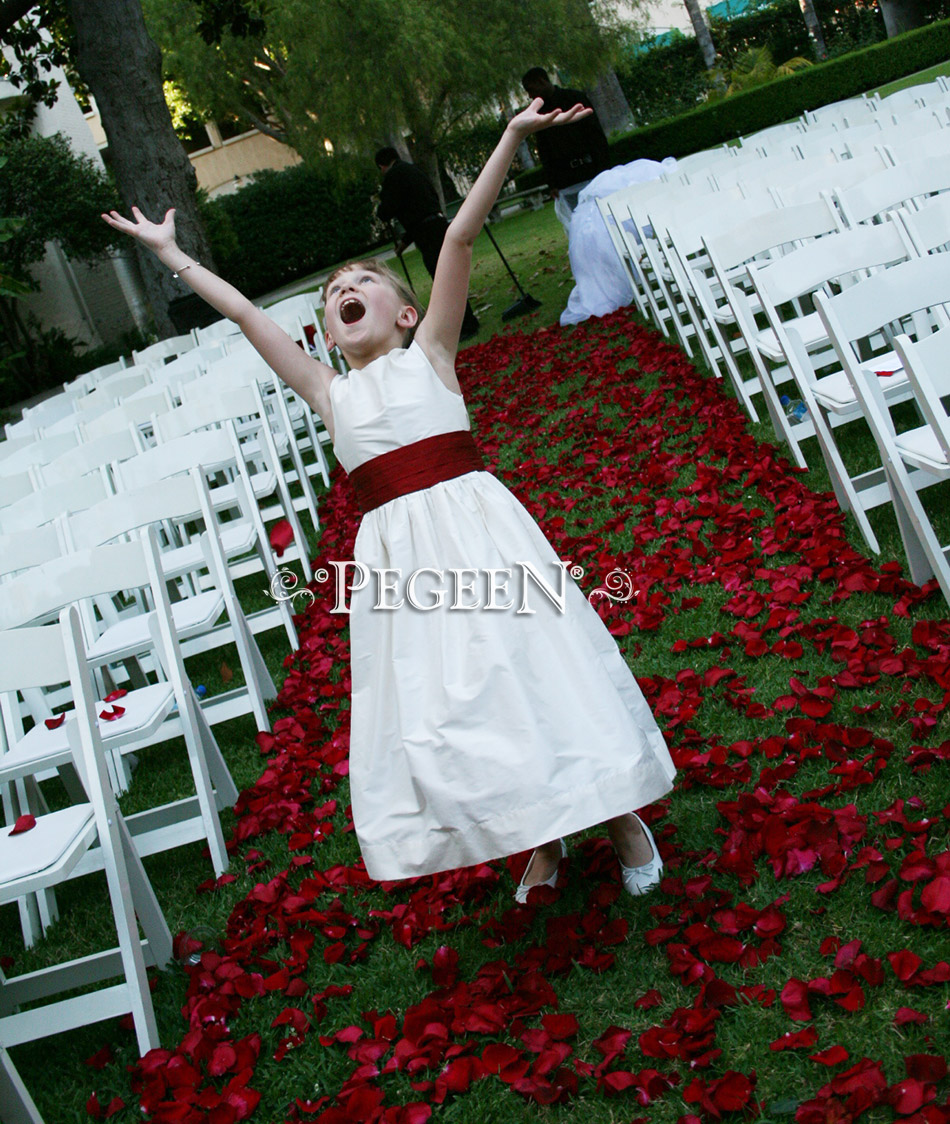 #16 We haven't seen a child yet who can't wait to play in the flower petals.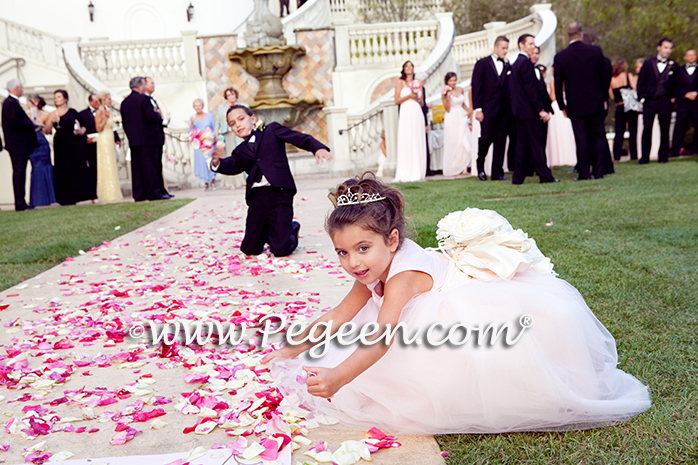 #17 These children are no exception. Obviously this little flower girl and her fellow ring bearer were bored with the bridal party photographing that was going on.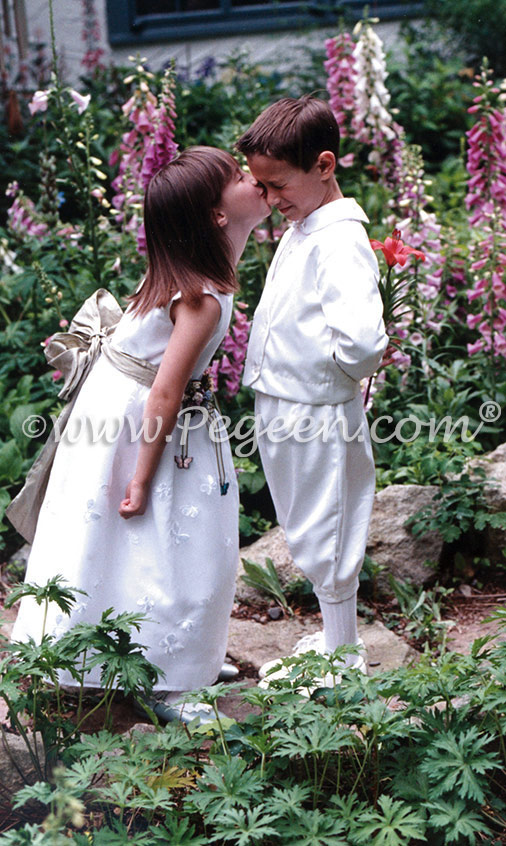 #18 Nothing like a first kiss. This little ringbearer was not quite sure about his flower girl partner.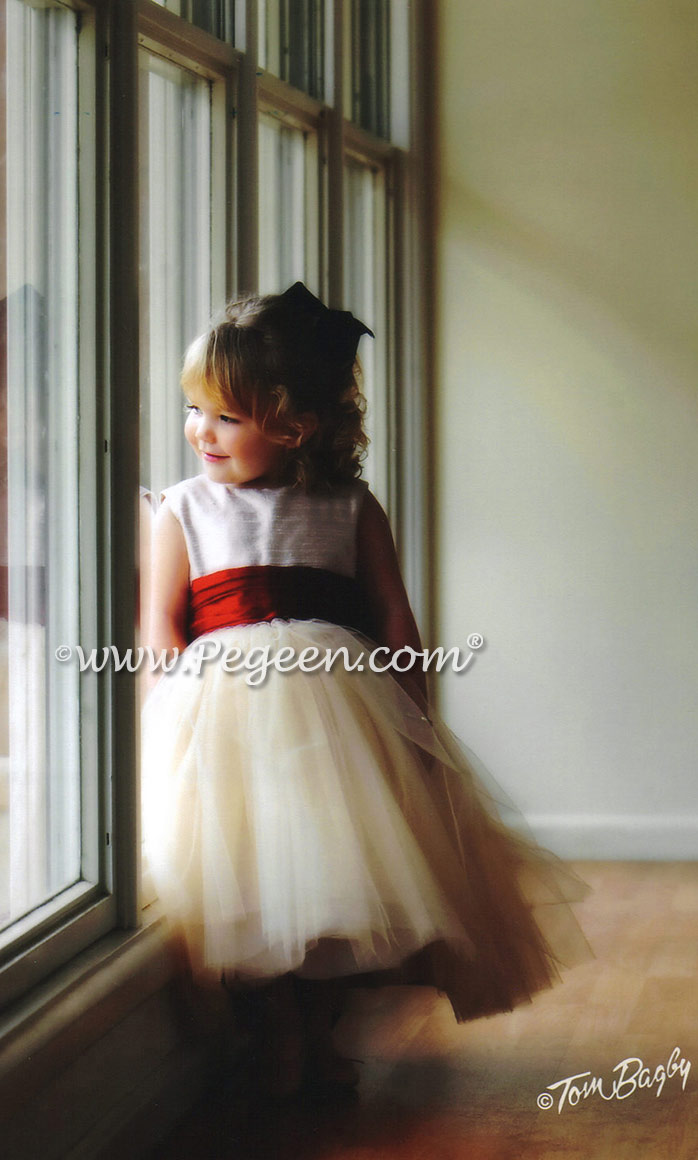 #19 The lighting on this flower girl dress is truly spectacular and that smile!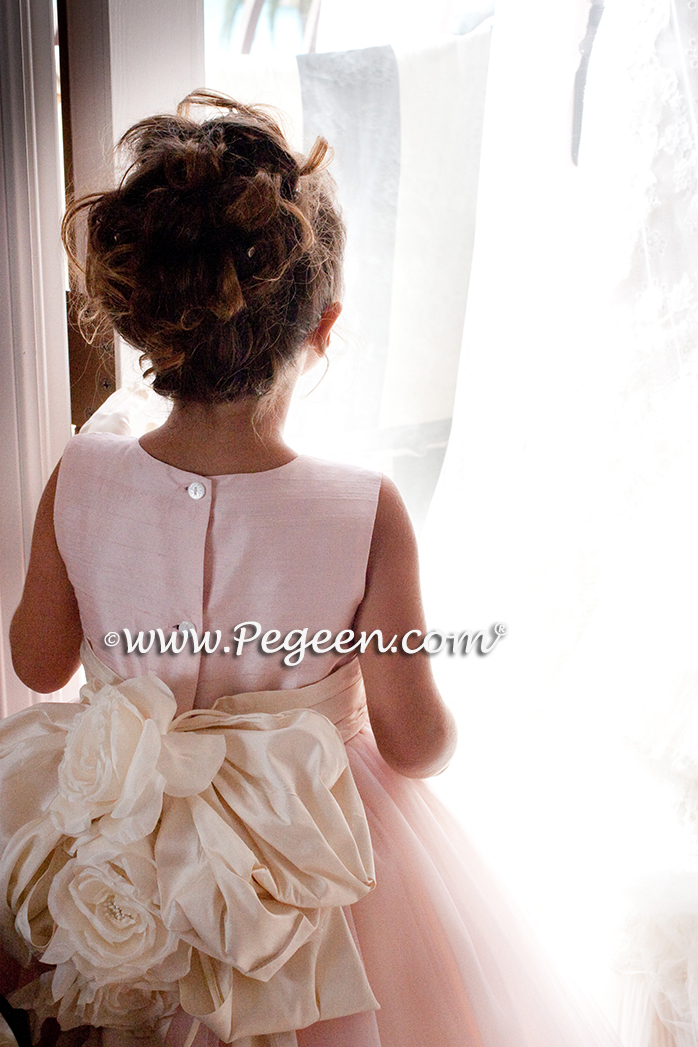 #20 Again, that window shot. A good photographer will get the lighting just right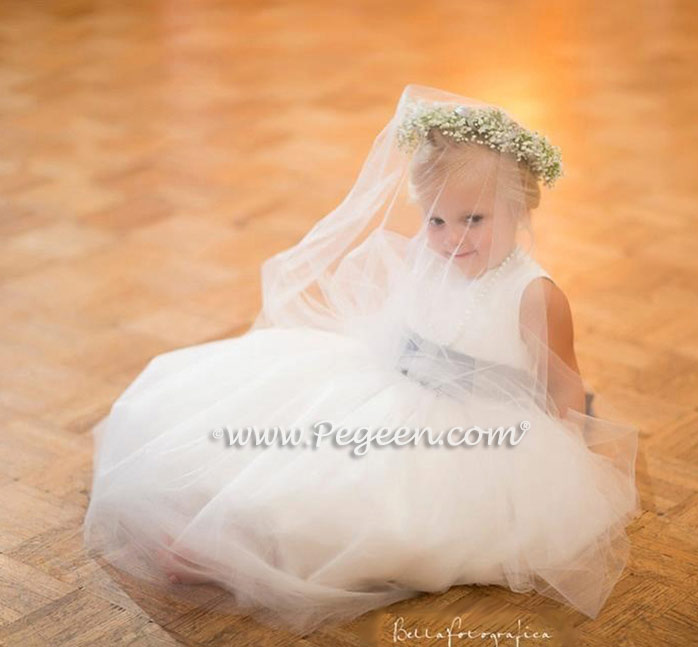 #21 The Wedding Veil Shot - little girls love to imagine what it will be like when they get married so the facination with tulle is everlasting.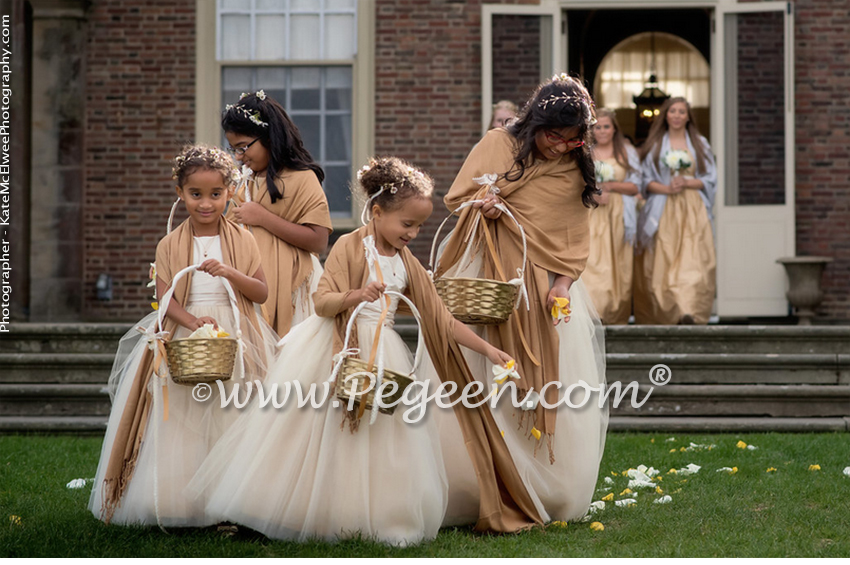 #22 Don't forget to ask for shots of the flower girls throwing the petals down - carefree, the smiles on these flower girls are simply irresistible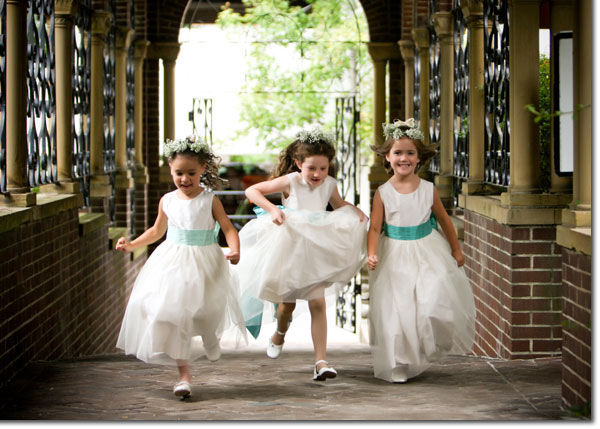 #23 Get me to the church on time.... these adorable flower girls are running in their dresses to let off a bit of steam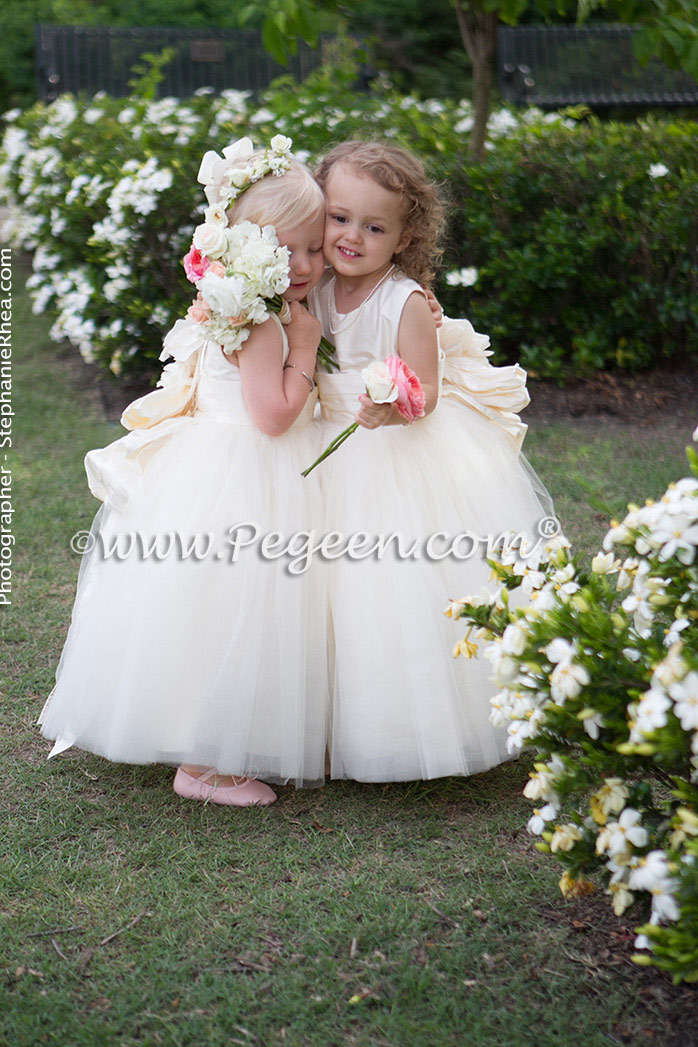 #24 The charming toddler flower girls loved showing their dressses off in the garden after the ceremony. These two kissing flower girls are the sweetest captured in such a happy moment.
#25 And finally,