Flower Girl Dress Ideas for 3 Most Popular Wedding Themes
Posted on

November 12, 2020 5:43:00 AM EST

in Flower Girl Dress Blog by

Pegeen
So, what are your wedding plans?
There are so many decisions to make when planning for your wedding. You have to decide on the theme, venue, dresses, decorations, food, and entertainment, and so on.
Other than these factors, one old tradition that has made a way in a modern wedding is flower girls. As per the tradition, flower girls walk down the aisle ahead of the bride and groom and spread petals to pave the way for a new beginning, fertility, and happiness in the marriage.
In addition to that, guests love to see the darling little girls start the ceremony off in a heart warming way. A lot of times, it can be an ice-breaker to the start of wedding jitters and even some times set off some antics (You Tube and Facebook are full of such magic moments.) The colors you choose usually sets the stage for the theme of the wedding. There are a lot of things consider when deciding on a flower girl dress. In this blog, we will discuss the flower girl dress ideas for three popular wedding themes that are:
• Cinderella Wedding Theme
• Beach Wedding Theme
• Garden Wedding Theme
Cinderella Wedding Theme
You need to set the tone boldly. To give a look of an angel to your flower girls, you should choose dresses that match or complement your color scheme. You can add fresh flowers or matching ribbons or silk bows to their hair. For footwear, satin ballerina slippers are comfortable for the little flower girls and they have the added bonus of being easily dyeable to match the bridesmaids, ot better yet, glass-like slippers. Zappas.com is a great site for picking out the best shoes! Lastly, you should decorate the basket with flowers or ribbons to match their dresses.
Beach Wedding Theme
A Beach wedding is basically a location-based wedding in which you choose the wedding venue near a beach, sometimes a resort. The things or feel of the wedding can be different for different people. If you are planning for a romantic beach wedding, you should choose soft pastel tones or white for the flower girl dresses with lots of fresh flowers in their hair.
For a colorful beach wedding, you can use typical beach dresses in tropical colors, matching your wedding decoration. It will keep your day fun-filled.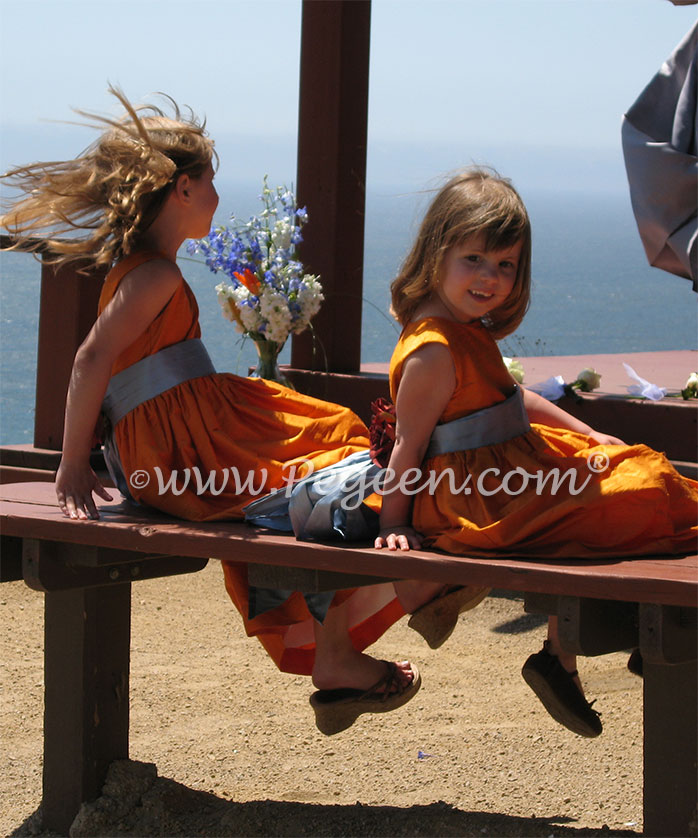 Garden Wedding Theme
Garden theme means your wedding venue will be surrounded by blooming flowers and arches. The wedding venue will be full of natural elements. So the flower girl dresses should be entirely different. The colour of a flower girl dress for a garden wedding theme should be white, off-white, or pale pastel. You can have soft cotton dresses with flower patterns and a large solid bow tied at the back. For the footwear, you can add up satin sandals and colourful tulips.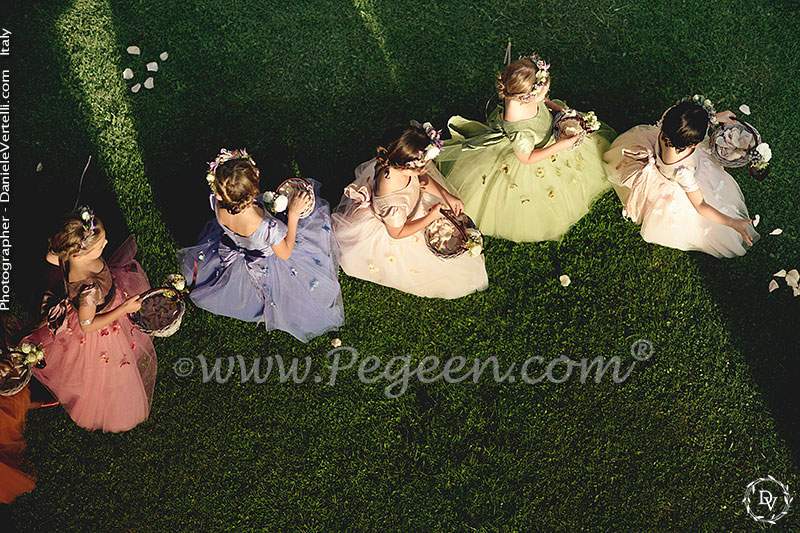 As a tradition, flower girls have special powers to grant harmonious relationships to the new couple but you can take their help to set a tone for your wedding and mark a strong entry by selecting one of the best flower girl dresses.