Top Favorite Red Flower Girl Dress Ideas for Valentines Weddings
Posted on

January 11, 2019 10:34:25 AM EST

in What Others Have Done by

pegeen
We adore red weddings! We have highlighted some of our top favorite red touches for your Red or Valentine's Day Themed weddings. Any of the flower girl dresses below can be ordered from infants through plus sizes and with or without sleeves at the same price. Visit our Red Flower Girl Dress page for more ideas HERE.
Red is often the color used in Asian weddings but for Valentine's Day weddings there is nothing more exciting. Nothing gets attention like red does. There are so many exciting accents you can use in the wedding, from the flowers, to strawberries on toasting glasses and of course the flower girl dresses. Pick any of these or all of these and excite your guests!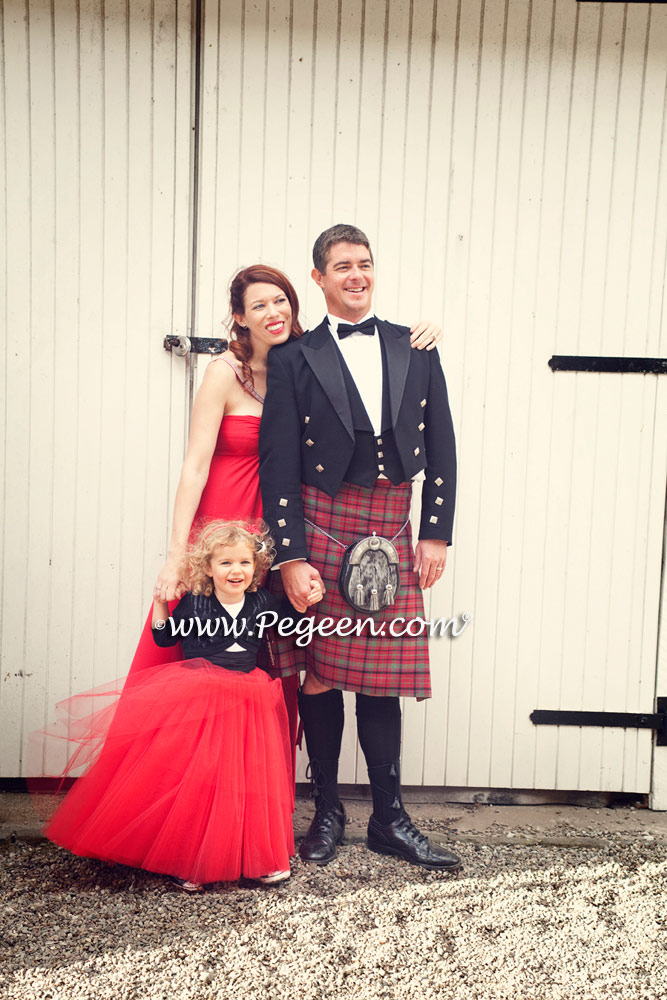 Dress above, Pegeen Style 402. Click photo for details or to order.
Red flower petals scattered on the aisle always creates a dramatic effect. A red runner produces a great contrast against a white or ivory wedding dress, making the bride more noticeable. If it's a Christmas or Valentine's Day wedding what could be more striking than a red wedding dress?
Here are a few of our staff picks for favorite flower girl dresses in red.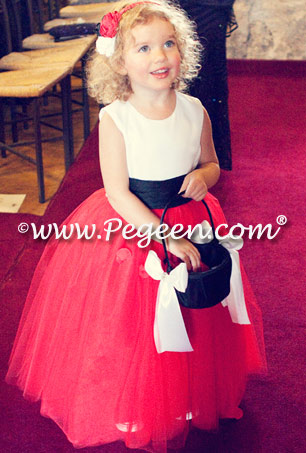 ABOVE. Red, black and white silk and tulle flower girl dress. DETAILS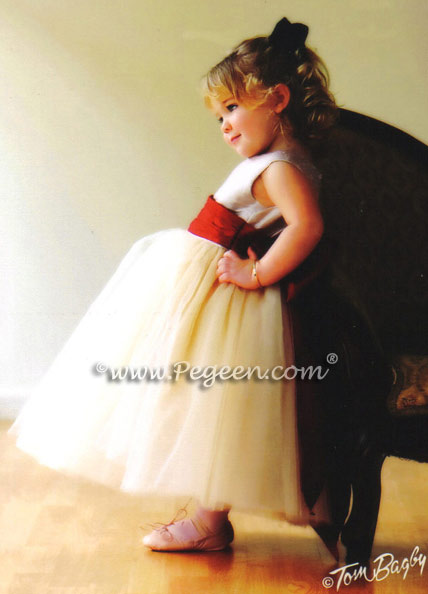 ABOVE. Claret red and champagne tulle and silk flower girl dress. DETAILS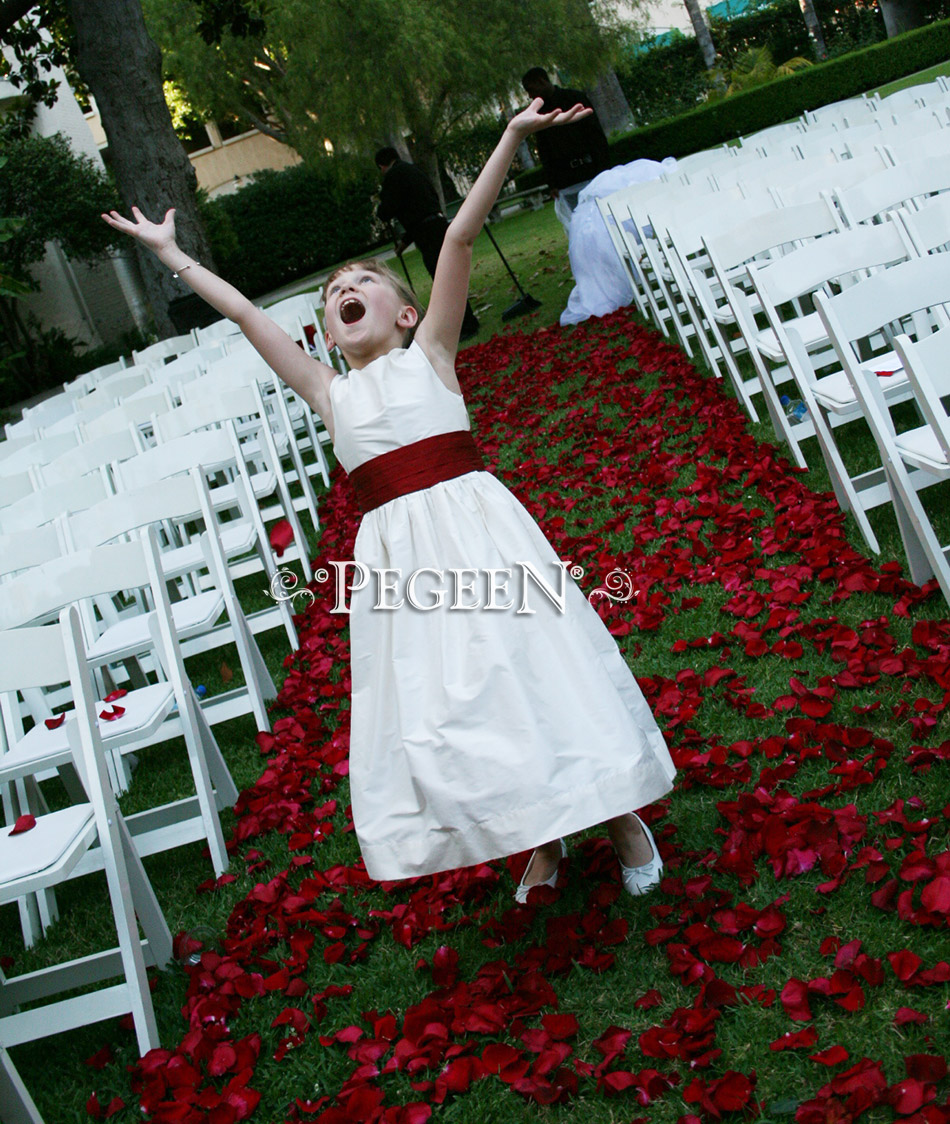 ABOVE. Red petals down the aisl make a striking contrast to this red silk flower girl dress. DETAILS
The kind of gorgeous setting one can create with red flowers is limited only by your imagination! Roses, carnations, tulips (candy cane tulips are gorgeous), gerbera daisies, amaryllis, poinsettias, and calla lilies are some of the most popular bridal flowers, although there are many more to choose from. Flowers can line the aisle in containers or on the backs of aisle chairs at the ceremony and at the reception, if they are separate venues. At Christmas time one can stack poinsettias into cone shapes and turn them into Christmas trees throughout the site. Single poinsettias make easy and attractive table centerpieces. Click any photo to see more of that wedding.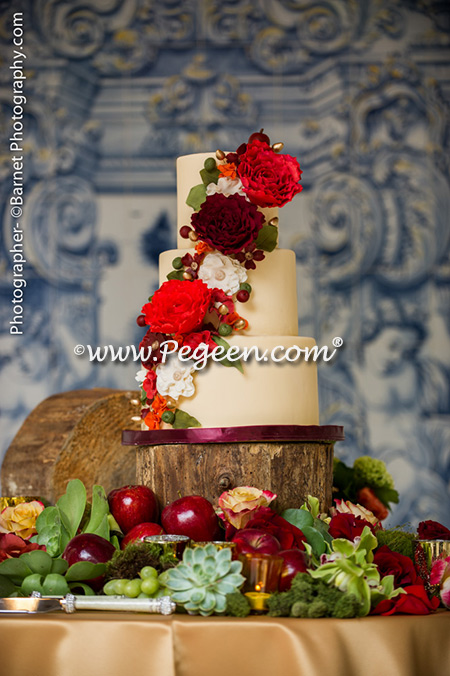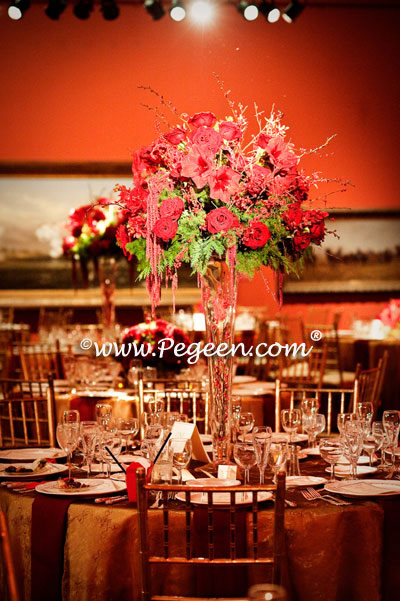 Cakes are fertile ground for creativity these days, it doesn't have to be your mother's wedding cake anymore. Making it red and any complementary color is as easy as telling your cake specialist what you would like. The amazing cake artists whose work is featured below shows us that a cake can be made to look like just about anything and as colorful as you would like.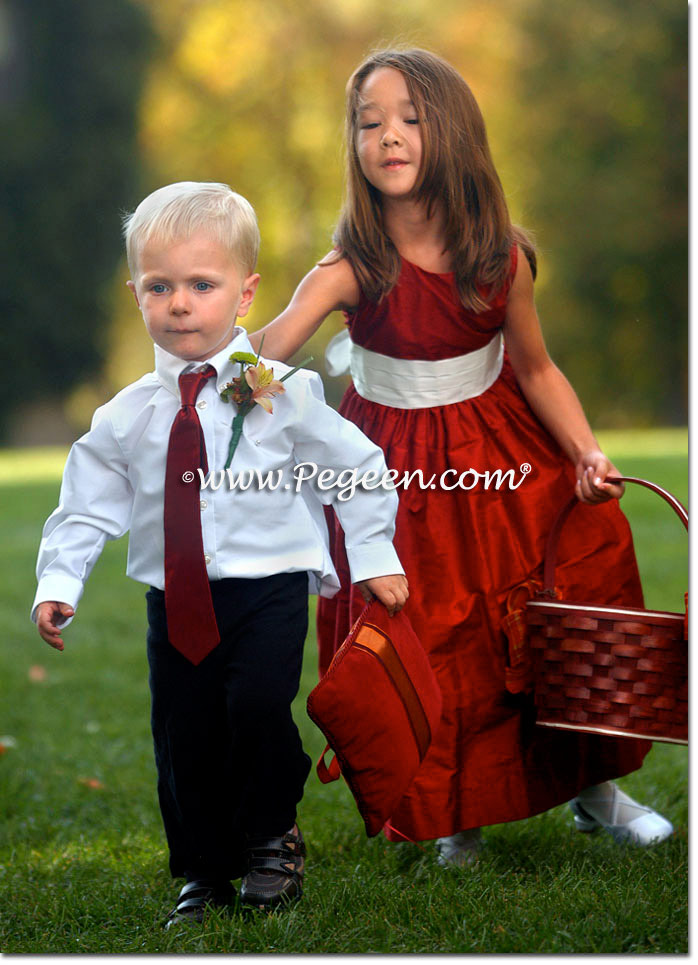 For the boys you can do a red vest or suspender set or even a red silk suit shown below.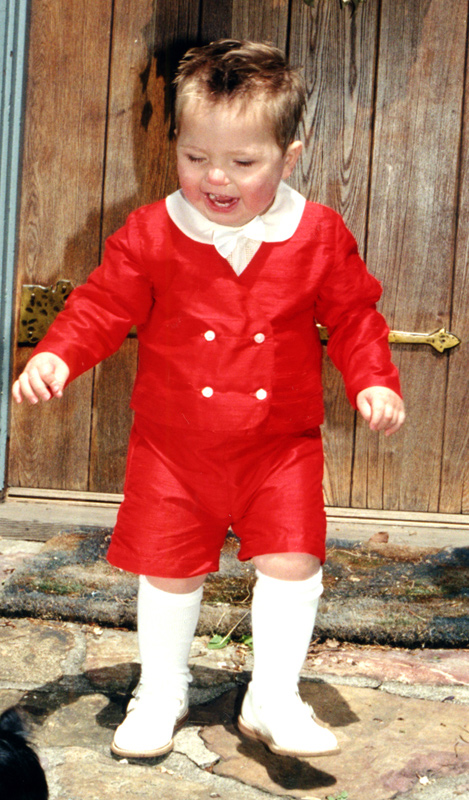 For details on our red silk ringbearer suit CLICK.
You can also visit our pinterest board with lots of ideas for red weddings or Valentine's themed weddings and flower girl dresses. DETAILS