Plus Size Chart
**Plus Size Girls get what we call a bodice fit in the mail. The charge for this is $30. For more information, please see BOTH charts below. You will provide to us the CHEST, HEIGHT, & WAIST - we make the dress to fit your child. Special sizing dresses are not returnable or exchangeable.

Every dress we make can be done as a SPECIAL BODICE FIT or a PLUS SIZE dress. (There may be one or two styles that can not be done with a plus size). We combine sizes and patterns for you and are good at what we do! Special Bodice Fit dresses are for children who are either taller and thin and can also be done on a child who is short but full but chest size is UNDER 34". Special Bodice Fits have small charge of $20. Plus Sizing is for girls who are fuller but a chest OVER 34". Our Plus Size dresses go all the way to a 45" chest and are an additional $30.

Use the below chart Only for Plus Sizes** For Special Fits, go to the second chart*

Plus Sizes are based on the Chest Measurement

Plus 1 34 1/2-35 3/4" Plus 2 36-37 1/2" Plus 3 38 - 39 1/2" Plus 4 40 - 42" Plus 5 43 - 45"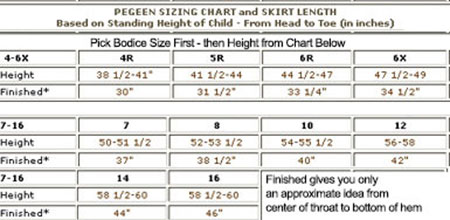 A LITTLE MORE DETAIL
For PLUS SIZES we will send a Bodice in the mail which is made out of a muslin material. You will try on this pattern/muslin and get back to us with any further fit issues. As an example, if your child is 53" in height and has a 36" chest you would order the size 8R in the first menus and the PLUS 3 in the plus size menu. This way we don't say a child wears a 16 1/2 or a 33 but a size 8 Plus 3. We think it makes the child feel less stress.Be sure to have a digital camera ready when it arrives. After the fit is finalized, we use our copy of the same muslin here and proceed to make your dress. We check the sizing this way because not all plus size kids are shaped alike. This ensures accurate sizing. The charge is $30 and use the chart above
SPECIAL BODICE FIT is for girls who are just too hard to fit - sometimes they are very thin and others are stocky. You can choose these options by choosing, as you go to order, the pull-down menu for SPECIAL BODICE FIT SIZING. We need the height, chest and waist when you go to check out. It will appear as a BF on the menu so for example, for a tall & thin girl you may need a 14 for the size and a 10-BF for the top. (Just as an example.) Likewise, if she is a bit stockier, you may choose, again as an example, a 14BF but for her height, she is an 8. The charge is $20 and covers all the adjustments that we need to make. Use the chart below.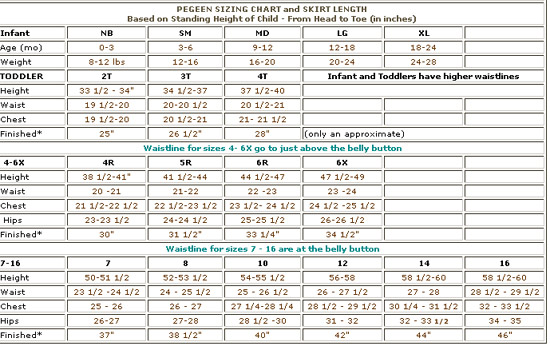 IF YOU ARE STILL WORRIED ABOUT HOW WE DO IT - READ THIS PRESS RELEASE click
"My staff and I are really good at spotting the problems. Once the digital pictures are sent back to us, experience and a little programming magic produces the changes that need to be made to the pattern. I really scare my kids sometimes when talking on the phone to customers. After they give me the height and measurements, I usually guess their weight within a pound or two. It amazes my kids but reassures the customer that we know what we are doing! I was especially happy when a recent customer said to me 'ITS LIKE MAGIC IN A BOX' and that pretty much says it right there.">
INSTRUCTIONS FOR ORDERING: When you place your order there are two pull downs we want you to choose. For the first menu where it says choose size, pull the top menu for her height. For the BODICE FIT menu choose the one that best fits the child's chest OR choose the PLUS SIZE menu for chest sizes 34" and over.
If we recommend that your dress is to be made as a special bodice fit and you decide not to go ahead with that option, it voids our Sizing Guarantee.