ABOUT THIS WEDDING : The flower girl wore a sapphire blue silk custom flower girl dress with damask fabric from the bride's wedding gown in Silk from the Pegeen Classic Collection
Style 383
Photographer: Gary Nevitt Photography | garynevittphotography.com | 610.716.0956 | Destinations as well as Eastern PA
Quote from the flower girl: "Thank you so much for making me a flower girl, because otherwise I wouldn't have gotten to be one."
Her dress was absolutely stunning. She was the most perfect flower girl. I loved that you were able to incorporate the fabric that I sent you with the brocade fabric of my wedding dress into the top of the dress. It's not as noticeable in pictures…but in person it was exquisite. Her look elevated the whole wedding party.
The weather was warm and windy for the ceremony and hot and humid for the reception. They had called for thunderstorms at 3pm, however the storm miraculously split and went north and south of us!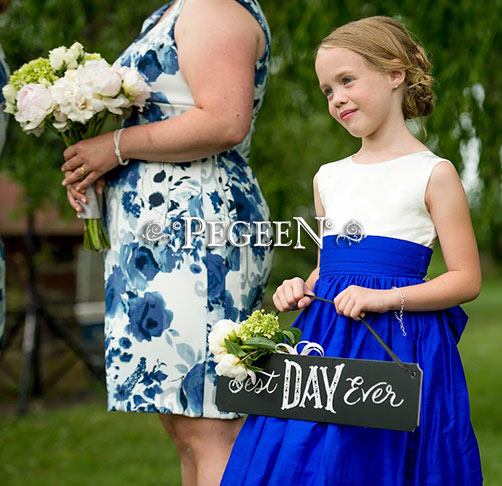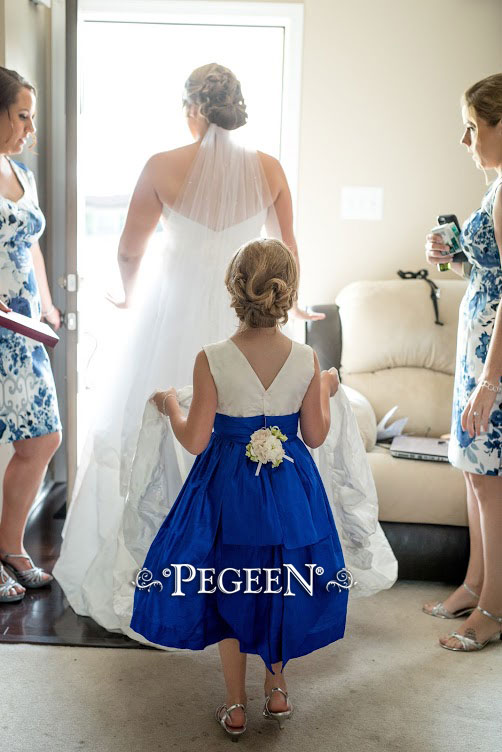 ABOVE : Flower Girl Dresses in Sapphire Blue with Customer's Fabric for Bodice Silk from the Pegeen Couture Collection. To view or order dress click:
Style 383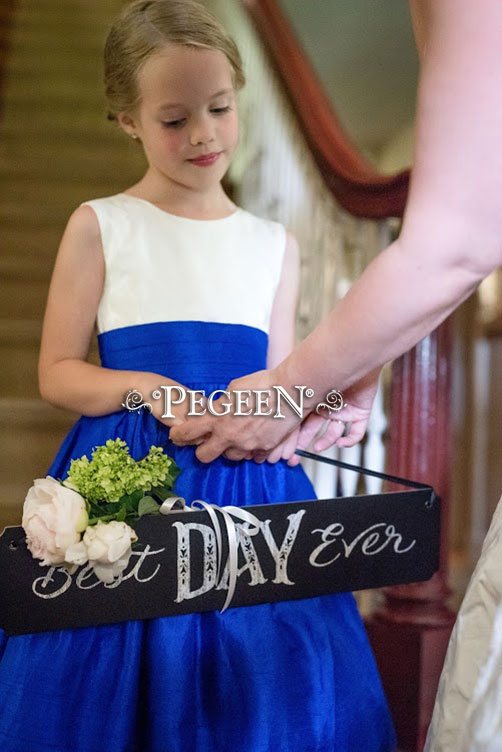 ABOVE : Flower Girl Dresses in Sapphire Blue with Customer's Fabric for Bodice To view or order dress click below: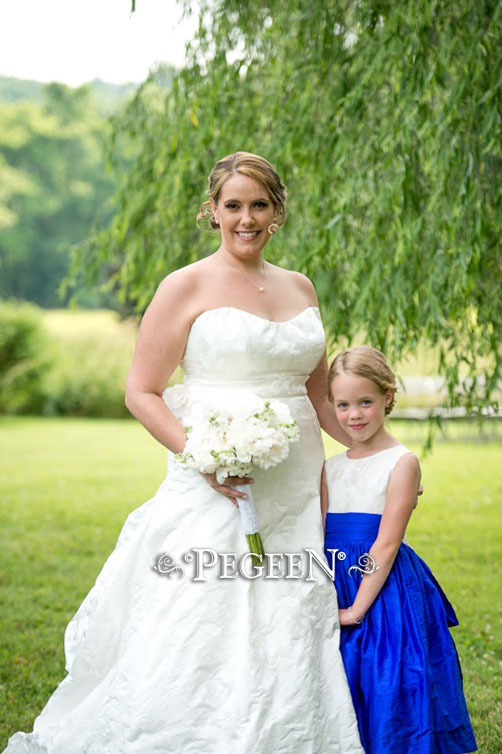 ABOVE : Flower Girl Dresses in Sapphire Blue with Customer's Fabric for Bodice click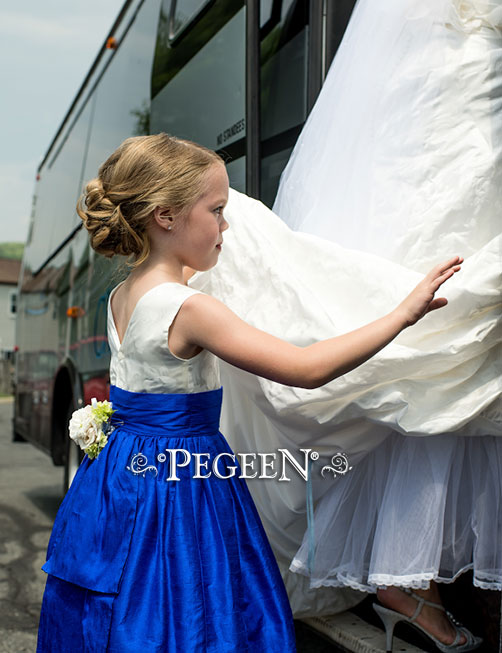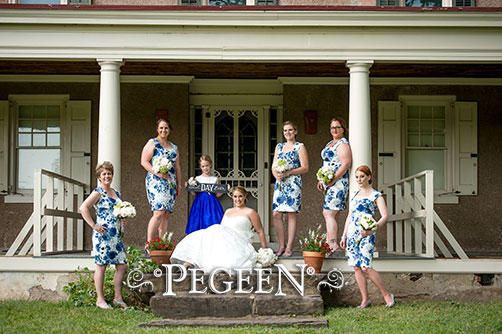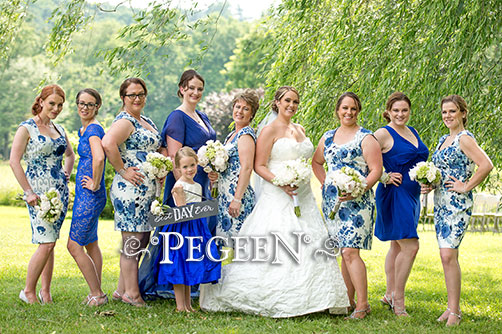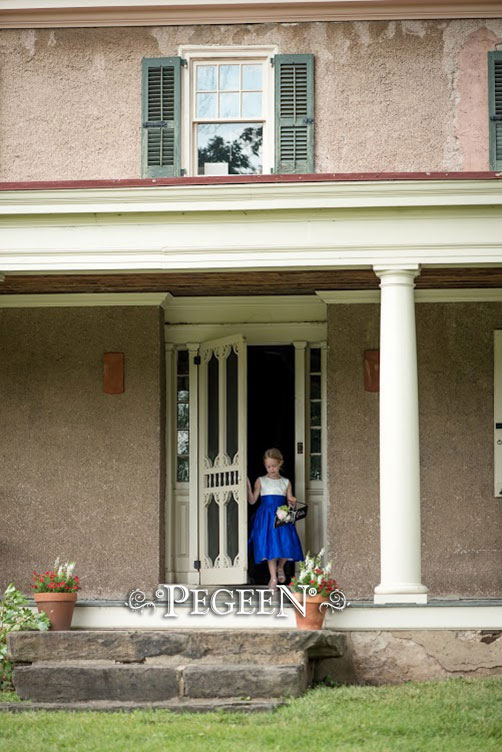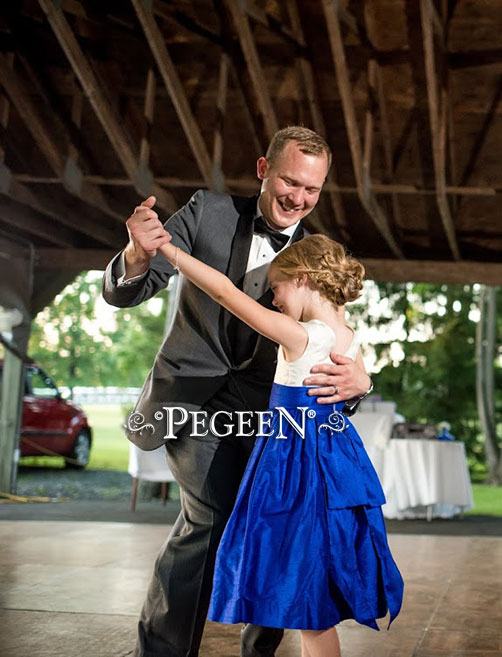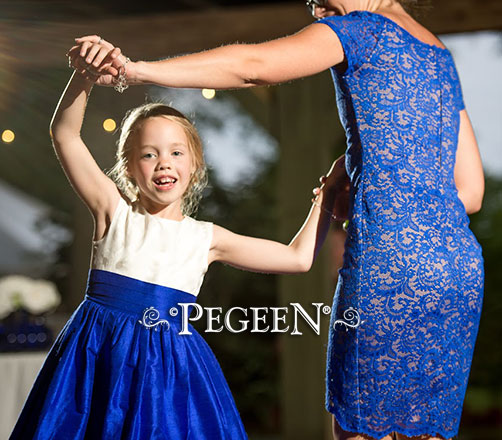 Pennypacker Mills is an unusually well documented historic site where you can see what it was like to live in the early 1900s. With a unique original collection, the mansion is fully furnished with antiques collected and documented by former Pennsylvania Governor, Samuel W. Pennypacker reflecting his interests in early Pennsylvania history, German and Dutch settlers, native Americans, the Revolutionary War and the Civil War.
From the bride: Bridal Gown - Page Six…its haute couture / Harleysville Bridal and Tuxedo, Skippack PA
Bridesmaid dresses, were a retail find of mine, that I worked with the retailer to have dresses of the varying sizes, from their multiple locations sent to me for purchase. Retailer was Boscov's Department Store.
I just had this vision of having the brides maids in a white background, blue floral knee-tea length dresses…and I couldn't find anything at bridal shops. So I started looking in other places. I even considered having the dresses made, but struggled to find fabric to purchase in the pattern I envisioned. One day my co-worker and I checked out the local department store at lunch, and saw this dress. Since they were starting to be out of season when I had been looking, they ended up going on super clearance and was able to purchase them myself as a gift to all my bridesmaids. I liked the cut too, as I had bridesmaids in various body shapes and thought this would be most flattering to all.
My bridesmaids were concerned when shopped for my bridal dress, that I was putting too much emphasis on finding a wedding gown that matched my vision with these dresses, but then one bridal appointment I found my dress with the floral brocade and it was perfect. With the lush green background, the look I wanted with white and blue, and peony/hydrangea bouquets, came together!
Florals: Flowers by Colleen, Pottstown 610.327.3680 | Location . Pennypacker Mills, Schwenksville PA | Reception Site Hickory Valley Golf Club, Gilbertsville, PA