Silk Flower Girl Dress Couture Style 402 in Ballet Pink and Bisque w/Signature Bustle
Wedding was held in the Fiji Islands, Mana Islands
"Unfortunately or fortunately (Fijian say it was a blessing from God), we had rain on our wedding day. Therefore, we didn't do as many photos as we planned. And our little flower girls didn't behave ideal; however, we did our best. Thank you so much again for creating beautiful dresses. They were absolutely gorgeous! " more below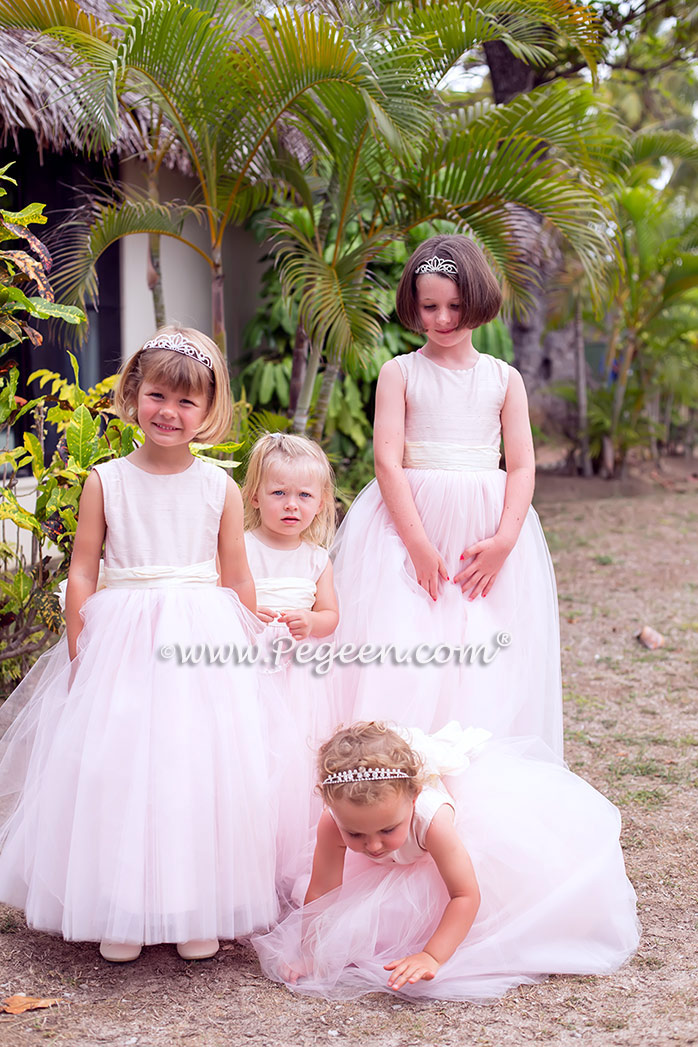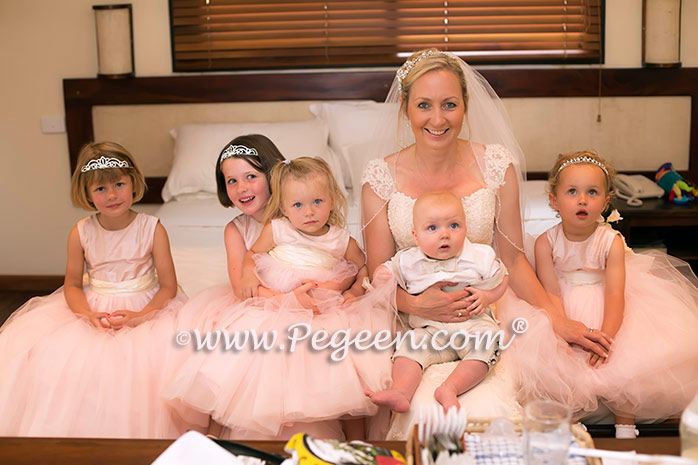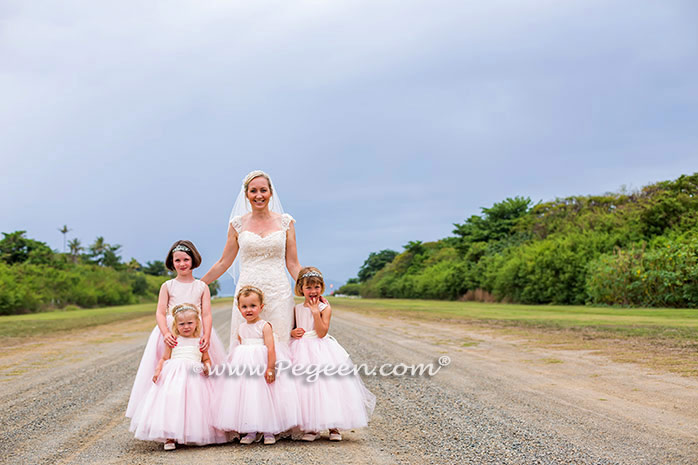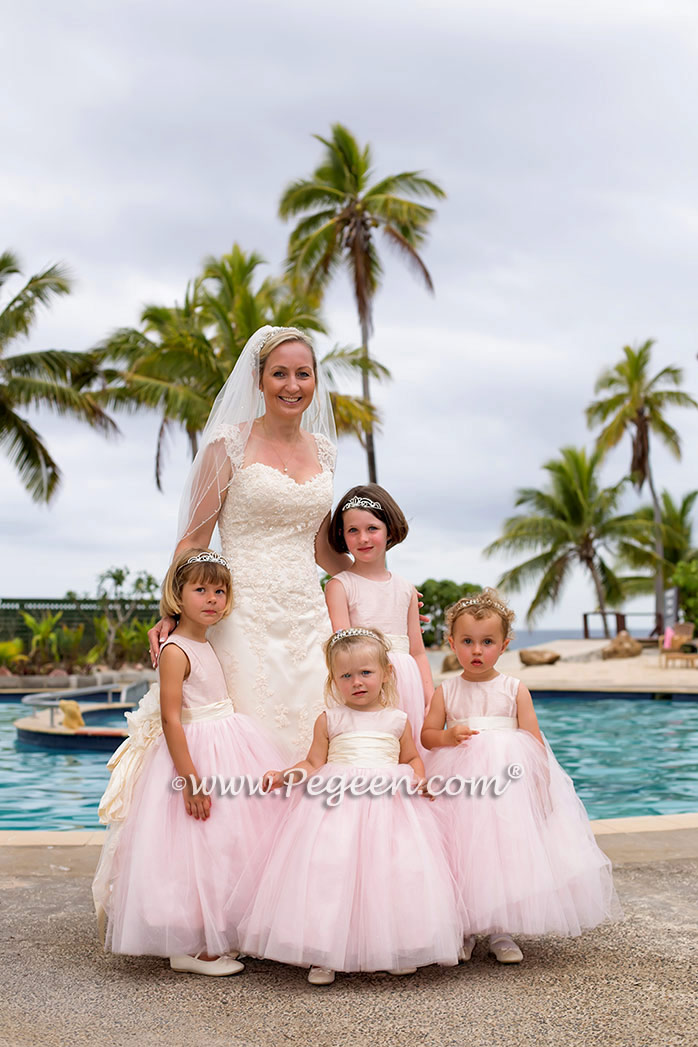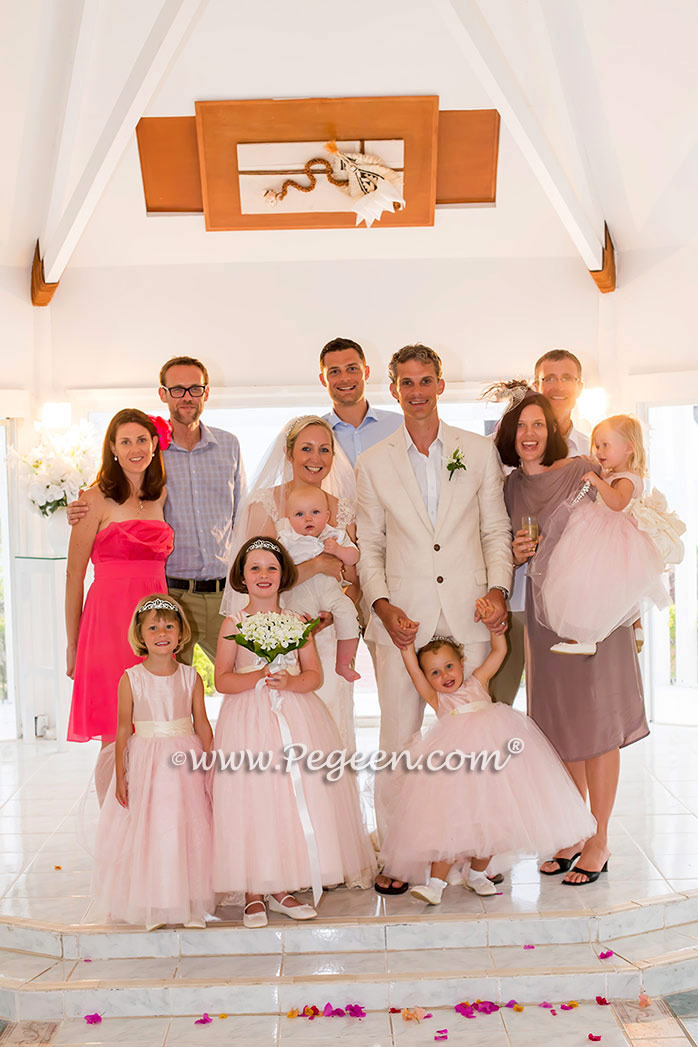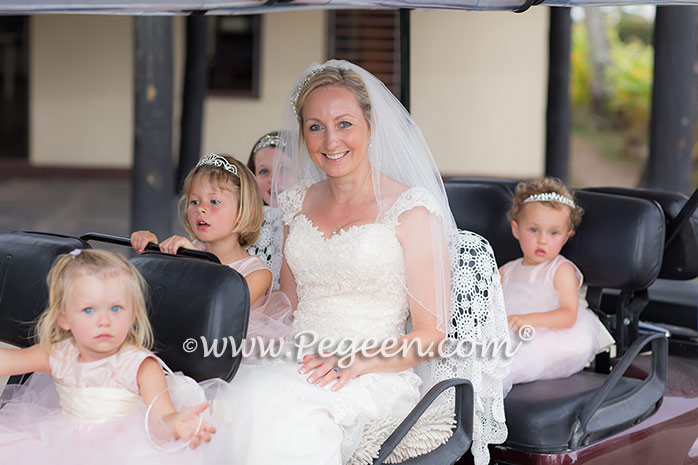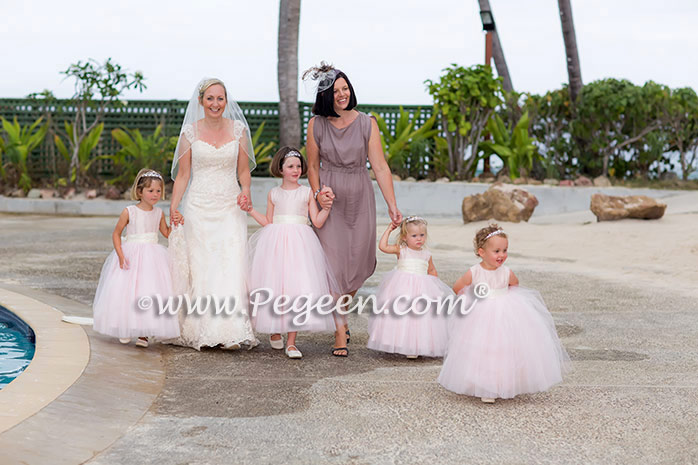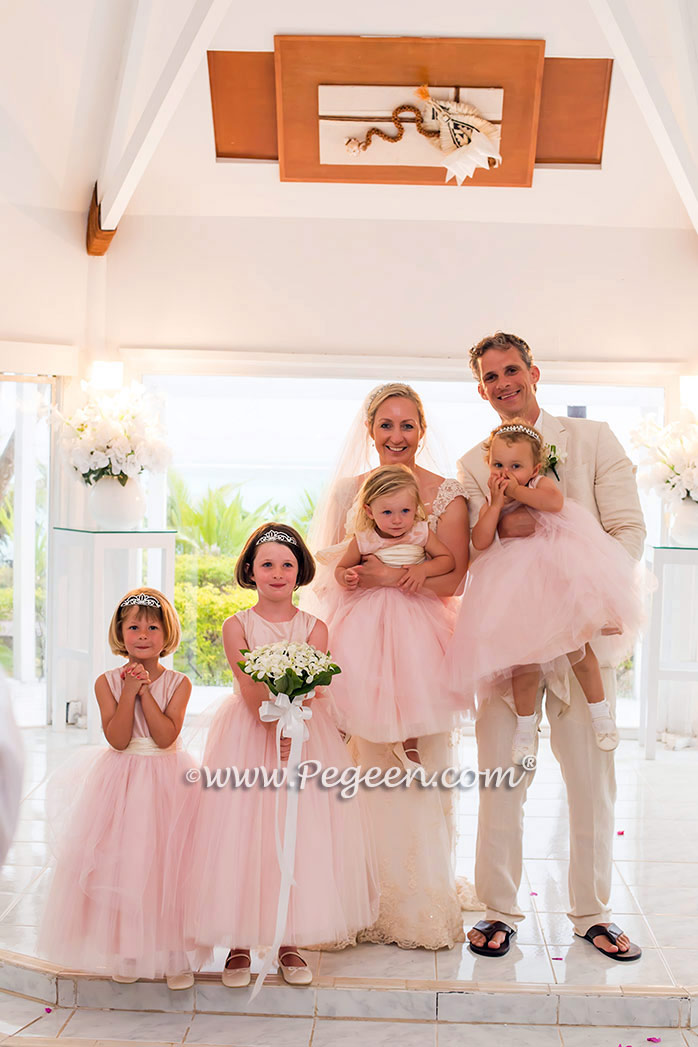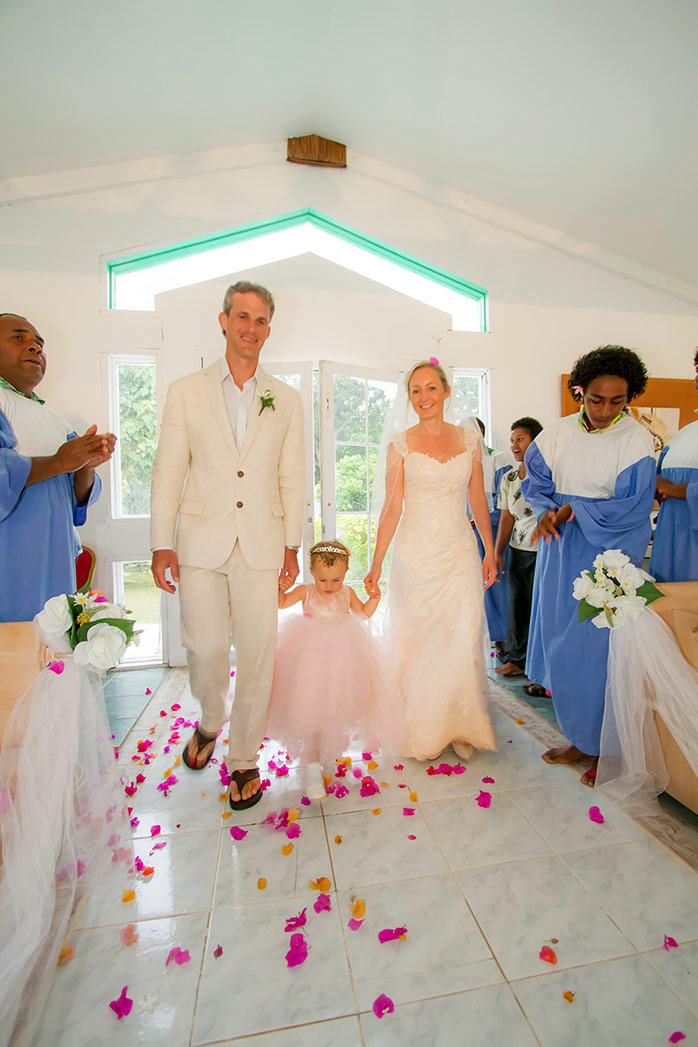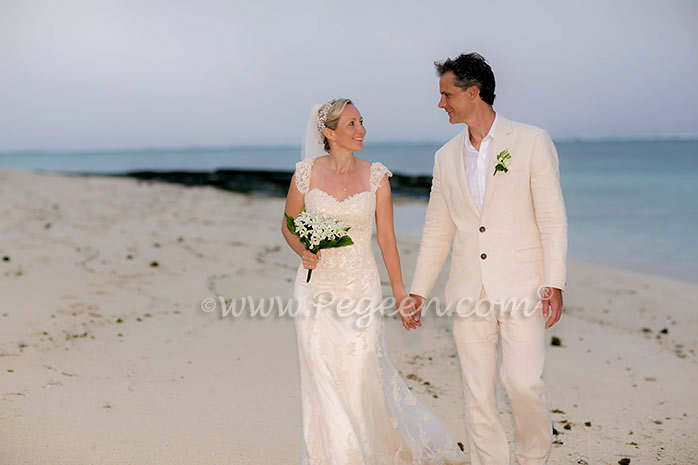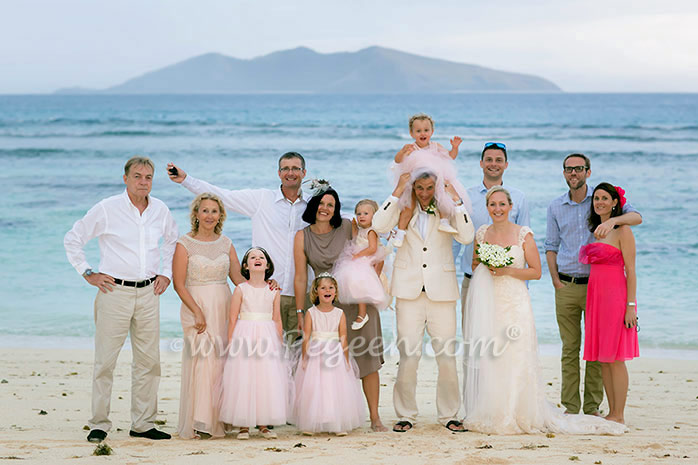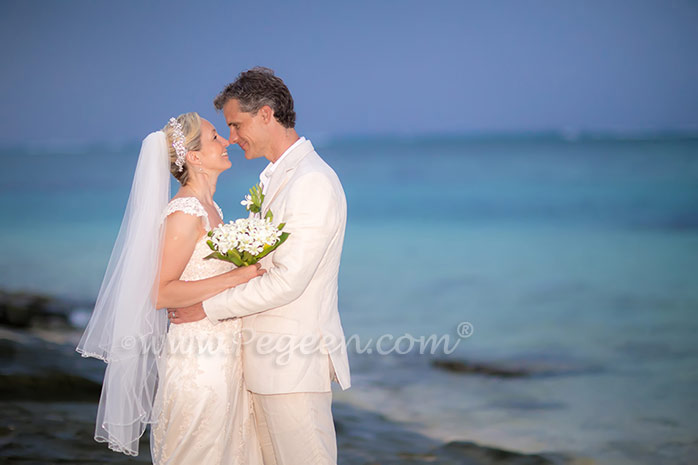 Our wedding was in Fiji at the beautiful Mana Island on the 1st of November 2014. It was a small private event. We had only our close family there. My parents flew from Moscow (Russia), and Keith's family flew from UK, NZ and Australia. Our beautiful flower girls were Keith's sister's 3 daughters (Ava, Mae and Tessa) and our daughter Lauren. They all had your stunning dresses and all fit perfectly. The page boy was our son James, who was only 7 months old at that time, so he didn't really do much except being carried around by Fijian babysitters.
The wedding day was beautiful and interesting in the same time. We had quite a relaxing morning staying at the beach and pool with kids and family all together. The wedding ceremony was scheduled to start at 5 pm at the Seaside Island Chapel. The Chapel is the only one on that Island and near by islands, so we think we did well choosing the Chapel rather than having ceremony at the beach because of an unpredictable circumstance. Just 5 minutes before the ceremony was supposed to start and I had to walk the island with the flower girls, the tropical downpour suddenly came out of nowhere. The Fijian people told us and sang a song that it was a real blessing from God to have such a heavy rain. The ceremony started with a small delay and the rain stopped 20 minutes after and the sun came out and we managed to have some nice photos done at the beach.
I purchased my wedding gown in Australia. I ordered it at Raffaele Ciuca Bridal salon in Melbourne. And my husband Keith purchased his wedding suit from Bali. Keith had his suit hand made through Anika Tailor salon within 5 days while we stayed at the Intercontinental resort Bali just a few months before the wedding.
And a few words about us. Keith and I met in December 2009 in New York, USA. I have been living and working at that time in New York. Keith travelled from New Zealand to New York for a medical conference for only 4 days and we met on the 1st day when he arrived. Believe it or not, the moment we met we both felt that we wanted to be together, create our family and have kids. And in May 2010 I made a decision to move to New Zealand and be together with Keith. In December 2011 I finished Master's degree at the Auckland Business School, and since then we are in Australia. We live in Bendigo, Victoria. Keith is a doctor (anaesthetist), and I am a home stay mum at the moment. We have small 2 kids: Lauren has just turned 3 this week, and our James is 1 year 4 months.
We would like to express our big gratitude to Marg and her team for wonderful dresses for our flower girls. With your input our special day was magical, happiest and one of the unforgettable days in our life! Big big thank you!