ABOUT THIS WEDDING : Flower Girl Dress in Chocolate Brown and Tiffany Blue with White Silk Trellis Top - Pegeen Flower Girl Dress Style 357
ALL PHOTOGRAPHY Jennifer Langdon Photography l JenniferLangdonPhotography.com l 860.729.1521 What we thought amazing was that the entire wedding cost less than $14,000!!
---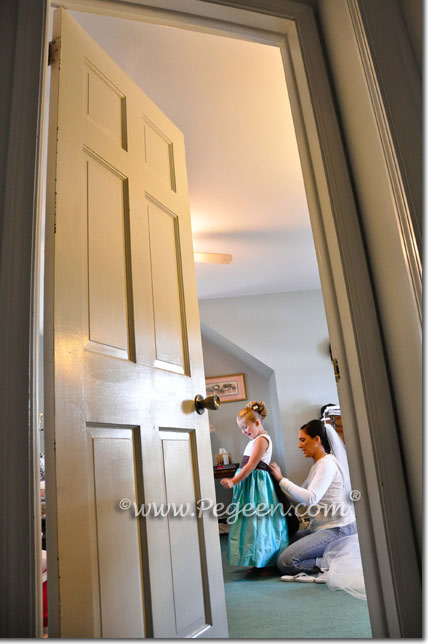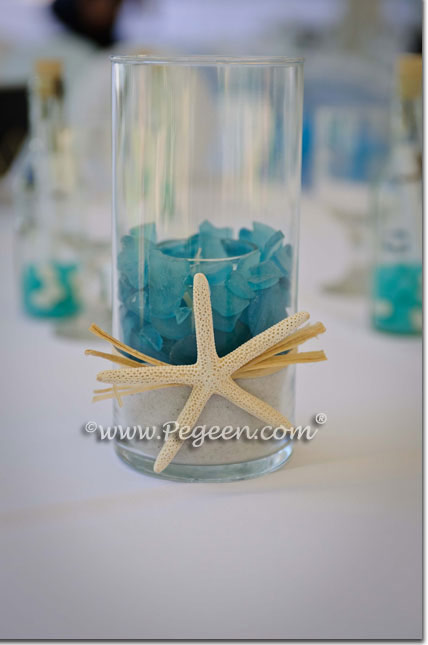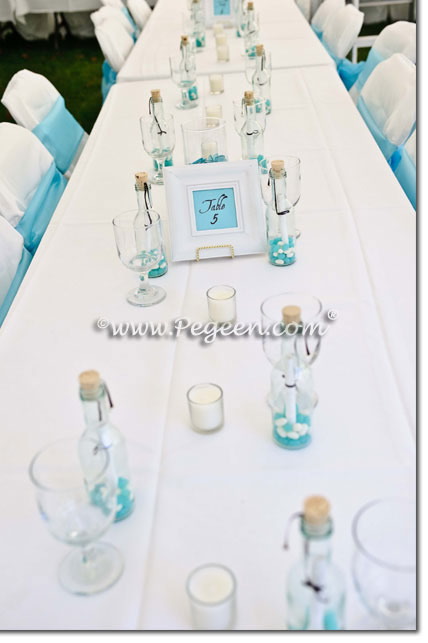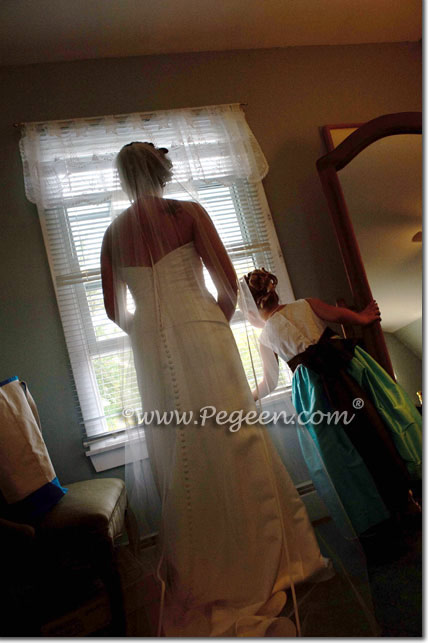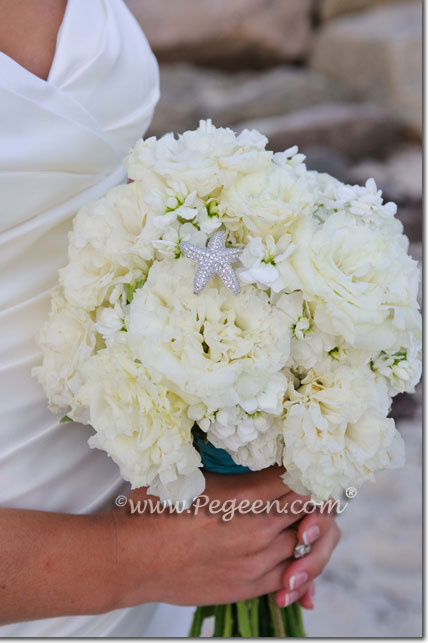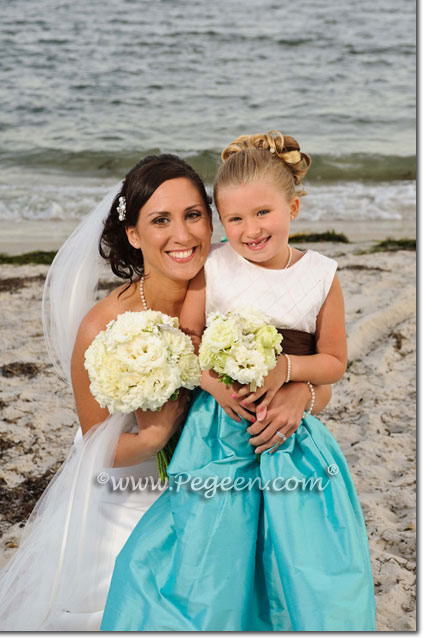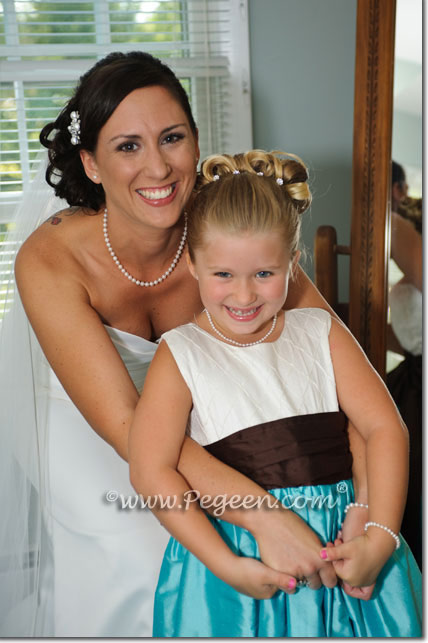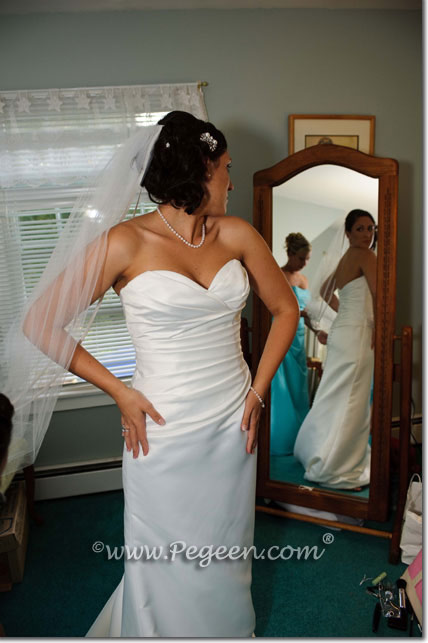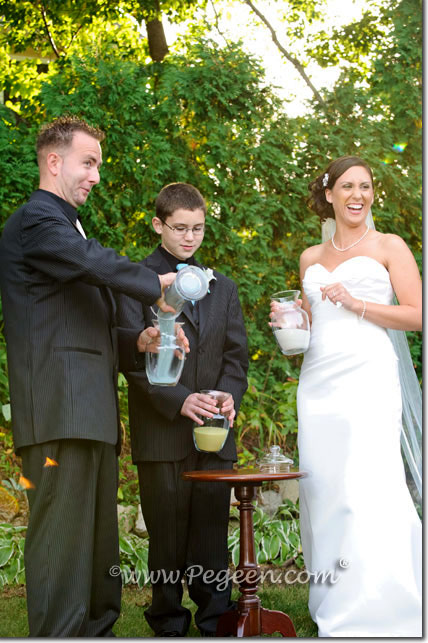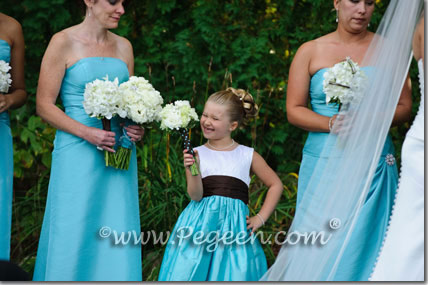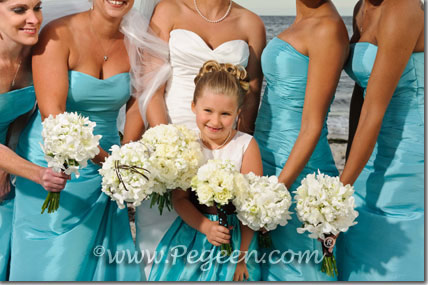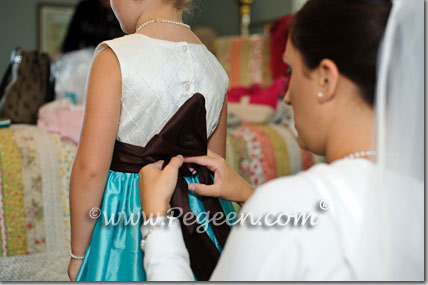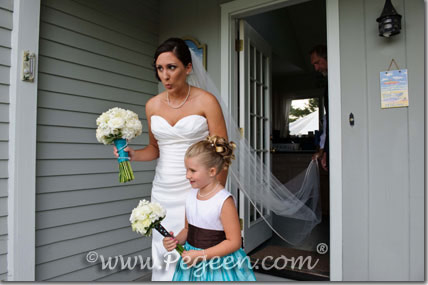 We were AMAZED at how well Jessica was able to pull off this wedding for under $14,000 and here is how she did it!
My first rule of thumb to budget a wedding is to give yourself at least a year. You have to figure out whats important and what you can cut corners on and live with. I shopped and shopped and did searches for the items I wanted and made spreadsheets so I could compare prices. The food , I just wanted it to be good and classy, it didn't matter if it was a 5 star restaurant. My flowers, the florist and I used flowers that were in season. By asking around I found a server and bartender for $400 (for 10 hrs.) and I let them keep the tips. Everything from my linens to my plates, it was worth the time to search. Most of the time you can find an online coupon for the store your purchases from. That helped a lot. We rented a house by the beach, so a white tent was necessary. After calling and comparing all the prices I wrote down I went from a $2,000.00 tent without sides to a $700.00 tent w/sides that had cathedral windows. Same tent! Just by taking the time to make some calls. I also did everything myself, favors, center pieces, invitations, I planned my layouts my décor, everything! By doing things myself and budgeting I made my wedding day very personal and special without losing sight of what this day was really about. Everyone felt the love that day, even some guys cried!
Favors I had my mom save her mini wine bottles all year! She was a trooper, thank goodness! Recycling & saving money at the same time! I bought the corks at www.sunburst.com for about $.20. The jelly beans were from jellybelly.com. I bought 8 ½ by 11 paper and cut them into 3 ½ by 5 sheets of and rolled them myself, tied a brown ribbon and hot glued a shell to the end. Inside the message I bought a full rubber stamp with our names, date of wedding.
Center pieces I bought the glass vases at the Dollar Tree. The sea glass on SaveonCrafts.com, the starfish & candles at A.C. Moore and the tweed ribbon at Michaels. I tied the tweed and then hot glued the starfish on the knot.
Place cards I bought 6 boxes of Champagne glasses when Linens n Things was going out of business. I bought aqua heavy card stock and cut them into thirds. I used photoshop to create 3x3 boxes with calligraphy writing in brown for my guests names. I used the extra tweed ribbon from the center pieces to tie the cards on the glass.
Tent Decor I knew I wanted an ambient feel to my decor So I used string globe lights inside the tent with paper lanterns. I bought the lights at sivallighting.com and all the paper lanterns on paperlanternstore.com in the color ice for $1 a piece.
Table Numbers I used left over paper from my place cards and bought little white wall frames from the Dollar Tree with gold frame stands to go with them.
Linens Table clothes and linens I rented through elegantpresentations.com. All other rentals were local.
Invitations I am a graphic designer and these took me the longest! I printed them at home on recycled paper and cut each ribbon and used rubber cement and remover (for excess). Love polka dots!
Another way to save some money and make your day personal is include little details about yourself to your decor. For instance, my flower girl and I (my god-daughter) love polka dots. So I bought brown and aqua ribbon just for her bouquet (which as you see in one picture) My husband and I have lost loved ones and so I put together a memory frame. I found the frame on sale and glued an extra starfish onto the corner, put a candle next to it and it looked great!
Things I couldn't survive without....my paper cutter, my DIY wedding binder and my friends and family!
Vendors
Vendor List Caterer: Tuscany Restaurant: Plantsville, CT(860) 628-2224 Flowers: The Flower Girl: Plainville, CT (860) 747-1099 Photographer: JenniferLangdonphotography.com Wedding held at private home in CT Wedding Gown by Mikaella Veil by Paloma Blanca Bridesmaids were by Bill Levkoff in Glacier, purchased from: Mariella's Creations: Rocky Hill, CT