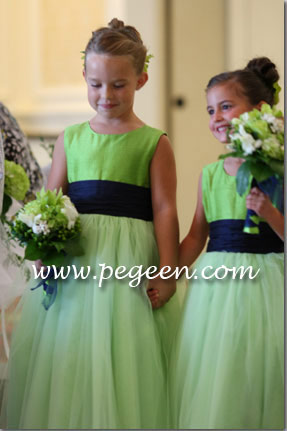 We present to you our featured wedding in lime and navy! We loved our bride and grooms inclusion of their children's artwork, their Aisle Runner and comfy sneakers. Held in Bangor Maine, their afternoon wedding was in navy blue and sprite to coordinate with her choice of green orchids. Flower girl dress in lime green and navy silk and tulle
The Photographer is Jason Smith www.jasonpsmithphotography.com and Hannah Wilde www.hannahwildephotography.com We hope that you will visit our featured Weddings We Love page and explore all these wonderful flower girl dresses that we are so fortunate to make now for almost 40 years!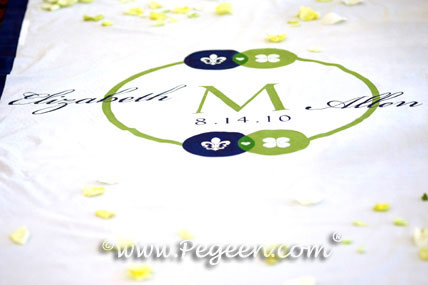 Aisle Runner by Starry Night Design Studio in a beautiful setting. And of course - the Green and Navy Blue details! From the artwork in the coasters (www.finedoodles.com) to the Aisle Runner (www.starrynightdesignstudio.com),we loved it all.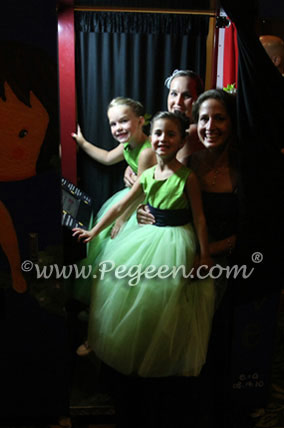 ###
About Pegeen:
Pegeen.com offers several distinct lines: popular priced Pegeen "Classic", Pegeen Couture, Pegeen Tween for Jr. Bridesmaids, The Regal Collection and the newest collections "Heavenly Collection" for Communion and Cotillion and the "Nutcracker Collection. In the past thirty-plus (32) years, Hyland has created, customized and sold over 900,000 infants' and girls' dresses and boys' outfits for weddings, cotillions, christenings, bat and bar mitzvahs, and many other special and formal occasions. Hyland is committed to providing couture quality at very reasonable prices. To View Styles visit https://www.pegeen.com/flower-girl-dress-styles.php
Pegeen encourages their customers to send in their photographs of their events once it is over and highlights their favorites on their website. For more information: details. (https://www.pegeen.com/be-in-our-commercials.php)
About Pegeen: Pegeen.com®, headquartered in Orlando, FL, has been involved in creating beautiful yet affordable clothing for children for weddings and special occasions since 1982. We remain true to our founding mission providing factory direct, couture quality flower girl dresses at affordable prices. Every flower girl dress or ring bearer suit is made in our factory and with over 200 colors to choose from, we are proud to help you walk down the aisle. For more Press information on PEGEEN.COM, call 407-928-2377 or visit Pegeen.com Designer Childrenswear or our interactive design tool Pegeen® Dress Dreamer™