Flower Girl Dress Gallery & Testimonials - See our Customer's Real Weddings pg 9 | Pegeen
My greatest worry about ordering a dress online was the fit, and I'm very relieved and impressed that it fits perfectly. Thanks so much for delivering an amazing, quality product. Thank you for contributing to make our day as special as it was.
---
The dresses just arrived a little while ago and Lauren tried both of them on—they are absolutely stunning and fit PERFECTLY!!! They far exceeded our expectations in quality and design. You rock!!!
The dress was beautiful and i was told that the "flower girl" may have stolen the show! My daugther looked and felt like a princess that day. Thanks and i'll send you a picture soon!



The dresses were absolutely gorgeous and were such a hit with everyone. You did a fantastic job with the sizing and colors. Really impressive! The dresses fit perfectly on both the girls

above Jason Messer Photography

I thought you might like a photo of my little girl in her Pegeen dress. She is the pageant girl who wore one of your dresses to a major national pageant - and WON big! The dress was amazing on stage, and I had several people ask where I found it. Everyone needs kudos for a job well done, so here are yours! Thank you very much. We are headed to another natural pageant soon, and I know this dress is going to do just as well there.

The winner wore Aqualine and Jewel in style 345 - we also chose her as Model of the Month

HI Pegeen! Just wanted to include a photo of the great dresses (and service) you provided us for our wedding! Thank you!

The colors matched great and the dresses were REALLY beautiful and they are worn around the house all the time as dress-up. (blue indigo 398 top rt)

Both my flower girl and junior bridesmaid wore your dresses that matched the bridesmaid Suri dresses perfectly. Thanks so much!
Our photographer was George Wolf www.georgewolf.com

Silver dress: Style 345.
Photography Michael Caswell www.michaelcaswell.com

Black and white tulle dress with 10 layers in Antique White/black silk for the toddler flower girl dresses

Photography immediately above,
Neysa Ruhl Photography

Thank you is an understatement on how much I appreciate the work that you did. My daughter's dress was PERFECT! Just what I wanted. She made the most beautiful flower girl. She made me cry, before I walked down the aisle. Not to mention the groom (her daddy). She got the first tear, not me the bride, but it was ok, cause she looked beautiful and it was all 3 of ours special day. Thank you soooooooooooooo much. Aubreana Stephenson-Holder



Here are some pictures of Morgan, my flowergirl in your olive colored material. My bridesmaid dresses matched perfectly and were from David's Bridal---color: Olivine. My photographer was Forrest Ridge Photography from Columbus, Ohio. Thanks so much! The dress was beautiful!!! (DRESS: just above - style 383 in Olive and ivory.


Photography above and immediate left, TM Photography Cincinnati,OH
Thank you for the beautiful work – the dresses were gorgeous.
Thank you - the flower girl dressed matched the bride's dress perfectly and the brown sash matched the bridesmaids so very well. TM Photography in Cincinnati (Tine Hoffmann) and she was wonderful. Thanks again and let us know when you post the pictures to your website. The dress was beautiful!

I used Pegeen and I just wanted to add that they are designers and the actual factory - not some retailer selling some goods. They were fantastic to work with and we customized the dresses to be exactly want we wanted - a beautiful silk color of tiffany with layers of tulle in alternating colors, topped off with a chocolate brown sash. The Flower Girl Dresses by Pegeen were no only beautiful when they arrived but fit perfectly. We got such compliments and joy! I also did a lot of research and know had I bought these in a store I would have paid more than double for the dresses. The designer I worked with was so patient and caring, and very helpful. The staff always kept me in touch and were so helpful when it came to ideas for hair and flowers and much more.

Well worth going to the manufacturer.

This photo card is from Finer Image Photography. This is a photograph of Chloe, the flower girl in a Pegeen dress for Anna Craig and Ahmad Hariri's wedding, Sept 2009. The dress was gorgeous and a perfect fit.

(flower girl dress above center, small picture with green leaves and coral silk color top and roses, organza skirt. Style shown Flower girl fairy dress style 321)

Thank you so much for dressing our flower girls in such beautiful dresses. I am attaching a few photos of the girls from the wedding, please share them with other brides. We only matched the dresses to the boys vests, which we purchased from you. It all turned out so beautiful!

Our photographer was Wendy from Christa Hoffarth Photography in Lake Tahoe, Ca.
www.christahoffarthphoto.com

Thank you,

Mary Lompa

Attached is a picture of my daughter in the flower girl dress that was made for her. She looked like a princess!!! Thanks so much for everything!

-Kim

Here is my gorgeous niece & flower girl Ana on 9.20.08. Hers was the only Pegeen outfit in my wedding - it coordinated so perfectly! Please let me know if you want more details or a testimonial on the excellent dress & customer service we received.

Photos were taken by Julie & Seth Nickerson of Nickerson Studios.

Kind regards,

(navy and sage silk flower girl dress with bisque silk top, shown right)

Both my flower girl and junior bridesmaid wore your dresses that matched the bridesmaid Suri dresses perfectly. Thanks so much!
The dress just arrived, and it is BEAUTIFUL! My greatest worry about ordering a dress online was the fit, and I'm very relieved and impressed that it fits perfectly. Thanks so much for delivering an amazing, quality product. Please thank your staff as well, especially those who held my hand through two long, neurotic phone calls to help me measure, re-measure, and measure again my wriggly toddler. Thank you, Pegeen!!! Angela King
Photographer Red Dresses below, right: www.jasonmesserphotography.com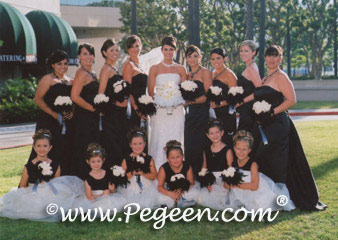 Everyone could not stop talking about how adorable the flower girls were in their gorgeous dresses. Our wedding was 2 days after Christmas and the ivory and red dresses looked AMAZING! I can't wait for you to se them and please do share with others.

Photography center, red Jr. Bridesmaids dresses, Jason Messer Photography

Photography right, www.catchlightpark.com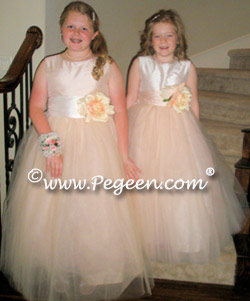 Angelina loves the dress. She has worn it several times. She may also be wearing it to another wedding in August where she will again be a flower girl. That is if it fits her. We will also change the bow. Thanks you for all your help.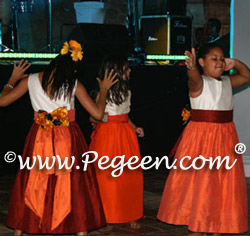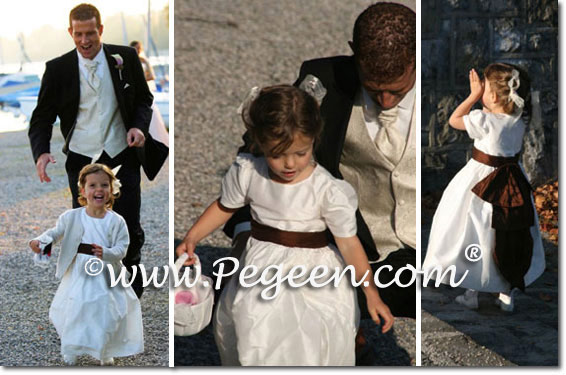 Photos (left & below) included of my wedding. Our photographer, François Schaer (I got married in Switzerland).
Kind regards,
Carla Shearouse Jung
married: Oct. 25th 2008
click on photo below for larger image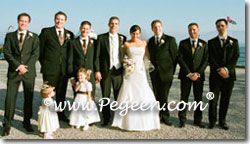 Photography immediately above www.georgewolf.com

The flower girl dresses were a hit! All the girls loved them and felt like princesses, they could not wait to put them on! We got married at Caneel Bay Resort on St. John in the Virgin Islands! All of our 50 guests went on and on about the flower girls dresses. Thank you so much for all of your work!
Thank you so much for making my daughter look so beautiful on my special day....



Photography immediately below,
Neysa Ruhl Photography

I was brought to tears with how gorgeous this dress is! I put it on my daughter right away to make sure it fits and it was just perfect!!! My husband and I just sat there and stared at her and I told him I have to run up and email you and thank you for making the most beautiful dress in the world for my princess! I don't ever say things I dont mean, so please believe me when I say...I have never seen anything like it in my life! The color combination, the materials, the stitching...every inch of it is just perfect.

We got Jordan's dress yesterday! It is perfect! Absolutly beautiful!! She danced around the house all night in her "princess dress". I know we didn't give you much notice but you were all wonderful. Thank you just doesn't seem like enough. She has a "prelim" pageant this weekend (The state pageant isn't until June) I can't wait to send you some pictures. Again, Thank you so much!